Sharknado 3: Oh Hell No! (2015)
Directed by: Anthony C. Ferrante
Written by: Thunder Levin
Starring: Bo Derek, Cassandra Scerbo, David Hasselhoff, Frankie Muniz, Ian Ziering, Ryan Newman, Tara Reid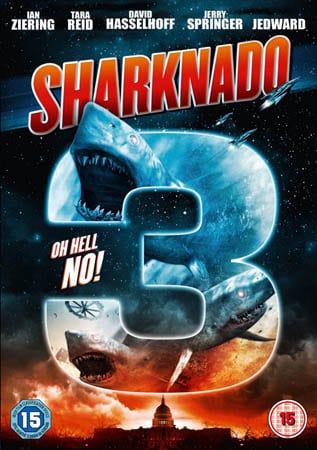 SHARKNADO 3: OH HELL NO! (2015)
Directed by Anthony C. Ferrante
When a Sharknado attacks the White House during his award ceremony, Fin Shepard must do everything he can to protect the President. When the Sharknado looks to be heading towards the East Coast after its destruction of Washington D.C., Fin must warn his pregnant wife April and family who're spending time at Universal Studios theme park – slap bang in the path of the Sharknado. Arming himself with the golden chainsaw, it's up to Fin Shepard to save the world once again… but where would our hero be without a little help from his friends.
From the White House to a world reknowned theme park, The Asylum once again unleashes its tornado full of sharks onto the unsuspecting American citizens in SHARKNADO 3: OH HELL NO! Who would have thought a day trip riding rollercoasters would be interrupted by flying sea predators ready to chomp off your limbs as they hurtle at high speeds towards you. It seems like an every day occurence for the Shepard family who are now having to deal with their third sharknado threatening to tear their family apart and the lives of those around them.
Ian Ziering returns as Fin Shepard who's fighting his way to the East Coast to rescue his family but he realises that the sharknado is too big to tackle on his own. Fortunately for him, help arrives in the form of familiar face Nova (Cassandra Scerbo) accompanied by geeky bodyguard and partner in crime Lucas Stevens (Frankie Muniz) who has bad news for all of them – more Sharknados are on their way and together they'll form a Sharknado wall along the East Coast! This seems like a job only NASA could help with… It's just as well Fin knows someone who works there…
None of the Sharknado films are meant to be taken seriously though SHARKNADO 3: OH HELL NO! has a more intense tone than I'm used to seeing in B-movie creature features such as this. Despite cameo appearances from bodybuilder and The Incredible Hulk star Lou Ferrigno, wrestler Chris Jericho and Jedward to name but a few, the film lacks zany, extreme ideas until the final quarter of the movie when David Hasselhoff joins the line-up of shark fighting heroes. Hosting a sharknado at a theme park, I thought the film would capitalise on the unique location more than it does but apart from a few set pieces, the park is hardly used at all except for background dressing.
As always, the cast are awkward but likable in their roles as the Shepard family, being forced to spout ridiculous lines that would make any actor cringe but with this being an Asylum movie, and a Sharknado one at that, it kinda comes with the territory and adds to the film's charm. The introduction of The Hoff is a welcomed one as he brings a breath of fresh air to the movie which starts to become a bit stale by the halfway mark. Not enough insane action seems to be to blame but the ending provides enough fun and speculation as to where the series can go to give this viewer a hope.
So bad, it's good? Not quite, but I'm sure Sharknado fans will still enjoy what's on offer.
Rating: