Clan, The Out-Laws (2012)


Starring: Barbara Sarafian, Dirk Roofthooft, Geert Van Rampelberg, Inge Paulussen, Kristine Van Pellicom, Maaike Neuville, Robbie Cleiren, Ruth Becquart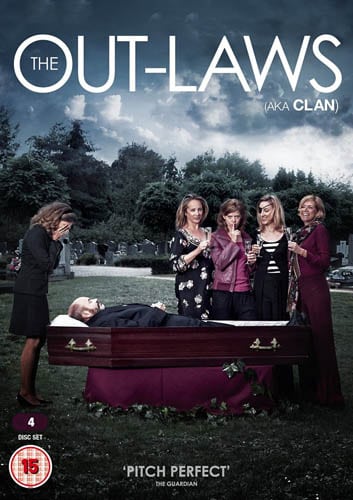 THE OUT-LAWS (2012)
aka CLAN
Created by Malin-Sarah Gozin
Flemish/Dutch with English Subtitles
THE OUT-LAWS is released on DVD on Monday 19th September by Nordic Noir & Beyond
Four sisters plot to murder their brother-in-law Jean-Claude Delcorps, the husband of their fifth sister Goedele, who's brought nothing but misery to the lives of all five sisters. After the death of Jean-Claude, the sisters are investigated by a pair of insurance agents who're determined not to pay out on his life insurance having come into difficulty themselves. With Delcorps having a suspicious claims history, will the brothers Dewitt find out the truth behind the death of Jean-Claude?
THE OUT-LAWS, known as CLAN in its native Belgium, is an outstandingly written and performed, slick black comedy centred around the Goethals family unit where the thorn in the side which is ruining everyone's lives is none other than The Prick, Jean-Claude Delcorps. Opening with the funeral of Jean-Claude, the standalone 10-episode series pitches this dysfunctional family to the audience and in one dinner scenes manages to showcase how much of an arsehole Jean-Claude was: insulting youngest sister Becca, tormenting autistic Bibi, slagging off nurse Veerle, verbally gut-punching eldest sister Eva and mentally abusing Goedele. Cocky, outspoken and full of himself, Jean-Claude comes across as a nasty, arrogant, chauvenistic pig towards his sisters-in-law but as the series unfolds, we discover that events taken place at the dinnertable were just the tip of the iceberg of nastiness for this Prick.
Not knowing how Jean-Claude died and by who's hand sets up the mystery element which will have the viewer hooked to this witty, dark comedy. We discover a lot about the personalities of the Goethals through flashbacks and recollections thanks to the meddling of the two insurance investigators, Thomas and younger brother Matthias Dewitt. Through their pushy interviews poking into their private lives, we find out about the lives of Eva, Bibi, Veerle and Becca Goethals, as well as Goedele, Jean-Claude and others around them, and what drove them to want to kill Jean-Claude. There's plenty of reasons stacking up and it doesn't take long for the viewer to want Jean-Claude dead too. A despicable human being, he is one man you would not want as your own brother-in-law and you can can see why the women want him gone. During one drunken evening, Eva jokes with Bibi about getting rid of him for good but Bibi takes her seriously. Despite initial dismissal of the idea of bumping off their brother-in-law, Eva soon agrees and we see the first of many attempts to take Jean-Claude's life with hilarious and often disastrous consequences.
What makes THE OUT-LAWS such a brilliant piece of television is its well-rounded characters. Each of the sisters have their own things going on in their life, for better or for worse, and we go through these trials of life with them. Spending time with the wonderful sisters, we feel like we become part of the family and every time Jean-Claude performs one of his nasty tricks, we feel the pain inflicted by his cruelness. The depths of his depravity knows no bounds and it seems that his sisters-in-law aren't his only victims. With each plan to kill Jean-Prick, the viewer watches with bated breath in the hopes it'll succeed. Likewise, in present day scenes the viewer is on the edge of their seat as the sisters are questioned by the Dewitt brothers who're hoping for the sisters to slip up and provide some evidence that Jean-Claude's death wasn't the accident it appeared to be.
With its obnoxious baddie and affectionate group of creative murderers, THE OUT-LAWS is an utterly engrossing, warm and funny drama series to get involved with, even with its upsetting and heartbreaking attacks on the sisters. The success of this series, other than the slick writing, is thanks to its perfect choice of casting with the brilliant Dirk Roofthooft, who completely channels the "man you'd most like to hate", as The Prick to wind up and ruin the amazing Barbara Sarafian (Eva), Kristine Van Pellicom (Veerle), Ruth Becquart (Bibi), Maaike Neuville (Bekka) and Inge Paulussen (Goedele). Clan is everything you'd want from a comedy drama and so much more that you'll find yourself grinning from ear to ear just as much as you cringe in shock. This is black comedy at its finest.
Rating: