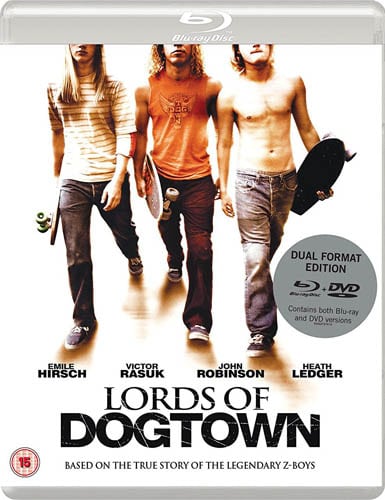 Eureka Entertainment are to release director Catherine Hardwicke's LORDS OF DOGTOWN, based on the true story of the legendary Z-boys and considered to be one of the best skateboarding movies of all time, on Blu-ray for the first time in the UK in a Dual Format (Blu-ray & DVD) edition on 5th December 2016.
Director Catherine Hardwicke followed up her highly acclaimed debut Thirteen with this exhilarating drama about the origin of extreme sports culture, and the devastating effects it has on the lives of those who created it.
After a severe drought empties Southern California's swimming pools, "Z-Boys" Tony (Victor Rasuk), Stacy (John Robinson) and Jay (Emile Hirsch) move in with their boards and develop an entirely new style of skateboarding, heavily influenced by their surfing background. After winning numerous competitions, skateboarding and the Z-Boys both become a worldwide phenomenon, but this newfound success shreds their friendship.
Also starring Heath Ledger (Brokeback Mountain, The Dark Knight) Lords of Dogtown is one of the finest sports films of its generation, and Eureka Entertainment are proud to present the film for the first time in the UK in a special Dual-Format edition.
SPECIAL FEATURES:
· New high-definition presentation
· Uncensored director and cast commentary
· Introduction to Dogtown by Director Catherine Hardwicke
· 7 featurettes about the making of the film
· Deleted / alternate scenes
· Blooper reel
· Storyboard to Screen comparisons
· Music video – "Nervous Breakdown" by Rise Again