The Code (2016)


Starring: Adele Perovic, Antholy LaPaglia, Ashley Zukerman, Dan Spielman, Robyn Malcolm, Sigrid Thornton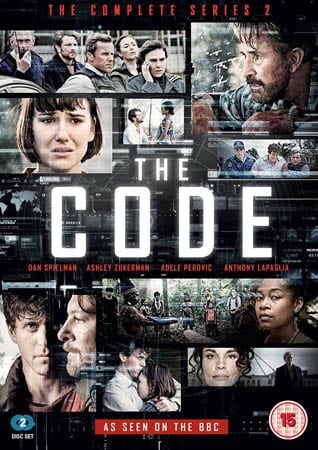 THE CODE (2016)
Series Two
THE CODE SEASON TWO is released on DVD on Monday 7th November by Arrow Films
Australian autistic hacker Jesse Banks and his journalist brother Ned are facing extradition to the U.S. after their exploits exposing the government links to Lindara. Promising them protection from extradition in return for helping to find missing teenager Callum, suspected to have been kidnapped as part of an online sex traffic ring, the Australian government give the brothers little option other than to assist them in this matter. Requiring Jesse to make contact with Jan Roth, the criminal mastermind of UndaCounta, the online marketplace for illicit goods on the dark web, the government believe that Callum's whereabouts will be logged on the website. Using a trojan virus, the government-hired online security company will be able to crack into Roth's system and rescue the young lad before it's too late. Believing he's using his skills for good, Jesse agrees to help but soon uncovers the real truth behind the interest in Roth and the humanitarian horrors the Australian government and the Indonesian government appear to be covering up.
Back for a second series, Australian political thriller THE CODE follows soon after the explosive events of the first series. Trading in the dusty, outback town of Lindara, the series has the brothers flitting between the white-collar environment of Canberra and the West Papuan tropical jungle hideout of Jan Roth who supposedly has all the answers. Just like the first series, nothing is quite as straightforward as it appears and though the task at hand seems relatively simple, the brothers soon discover that there's more to their mission than meets the eye.
Dan Spielman's journalist Ned Banks takes a backseat in the second series, playing more of an observer role but still an important one at that. As the overprotective brother, Ned continues to try and control Jesse's life but Jesse (Ashley Zukerman) finds himself reaching out on his own or at least allowing girlfriend Hani (Adele Perovic) to fill the role of confidant and reassurer. The mission which Jesse finds himself embarking on really allows him to grow as he meets Jan Roth (Anthony LaPaglia), a man who treats him as an equal and sees Jesse for who he is rather than focusing on his autistic limits. Is Roth really the boogeyman they're led to believe? As they say, one man's terrorist is another man's freedom fighter.
THE CODE once again explores the corrupt sides of government and authority, showing how truths can be censored to flip the story into one's favour to protect one's allies. In the case where innocent lives are being lost and crimes being covered up, Jesse and Ned must decide what's most important: their own freedom or that of a nation around them. The series also shows the lengths in which some people will go to for greed and power, putting even officials in a stranglehold.
Stellar performances from the returning cast of Spielman, Perovic and Zukerman as well as newcomers to the series Anthony LaPaglia, Robyn Malcolm as foreign affairs politician Marina Baxter and Sigrid Thornton as security chief, Lara Dixon, THE CODE shows that Australia has plenty to give when it comes to hard-hitting thrillers. The blend of technology and politics works hand in hand to deliver a story that could be quite easily lifted from real-life events. In a time where politics is anything but transparent, the series works hard to make you realise not everything is black and white and that not everything is as how it is presented. Sometimes things are orchestrated in a certain way to make you believe what you're seeing, hiding away the ugly truth underneath.
With stunning cinematography that really highlights the leafy, tropical locations as well as the sterile government environments, along with tremendous use of unusual camera angles that suck you into the action, THE CODE is a gripping piece of television that will make you question everything we're fed by those in power.
Rating:
Save