Agatha (2016)
Directed by: Timothy Vandenburg
Written by: Timothy Vandenburg
Starring: Jessica Farmer, Louise Ogle, Penny Kohut

AGATHA (2016)
Directed by Timothy Vandenburg
One of the joys of going to horror film festivals is seeing the shorts between movies. Although tricky to do well, when they are they can be very rewarding for viewers and a make great calling card for their creators. In this case it's the multi-talented writer/ director/ producer/ editor Timothy Vandenburg. Here he offers an atmospheric period story, with a great sting in the tale, that does more in ten minutes than many horrors do in 90.
The film is immensely creepy, with skilled use of lighting and some truly grating sounds effects. It builds up to a wicked twist that makes you think over what you've just watched whilst raising enough questions to leave you wanting to know more. The high production values are matched by strong, natural performances. Ogle is a delight, as the curious nameless orphan. Kohut also excels, making the most of her brief screen time as a faceless matron like mother, who explains the rules of the scenario in an unnerving voice. And then there's the titular Agatha… Needless to say she's not someone you'd want to bump into in the middle of the night.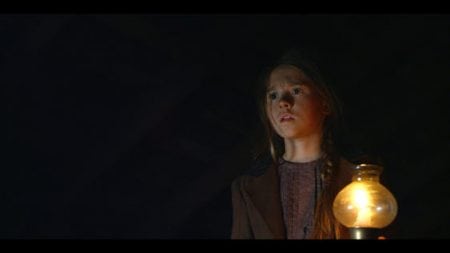 At risk of saying too much, here's the official synopsis
The orphan train comes daily, spilling hundreds of children onto the streets of Pennsylvania in the late 1800's. Desperate and alone, the penniless 7 year old Sophie, entrusts an older woman who hires her to bring food each night to someone living in her attic. There is just one rule: Do not pass the serving table…. EVER. As time passes, the child's curiosity grows bold; drawing her closer to discovering the truth behind the prisoner.
You can learn more about Agatha by following its Facebook page. After their great reception the makers are looking to release a feature version. Fingers crossed they do, as this is a brilliant statement of intent.