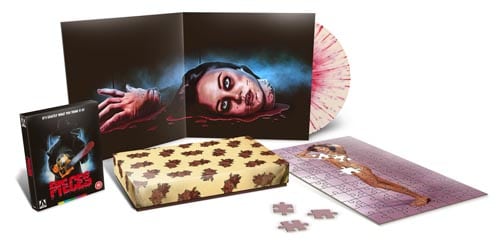 You'll want to get your mitts on this DVD, Blu-Ray, Vinyl and Puzzle deluxe limited edition Arrow Video release of PIECEs releasing on 27th March 2017!
From Juan Piquer Simón, director of the equally unhinged Slugs, Pieces is the original sickening slasher classic, now restored in glorious 4K!?
A Boston college campus is being terrorised by a black-clad maniac who collects body parts from his unfortunate co-ed victims. As the corpses (and red herrings) begin to pile up, can Professor Brown (genre veteran Jack Taylor) unmask the murderer before his morbid puzzle is complete??
Boasting some of the most outrageous gore set-pieces ever to splash their way across the screen (including a particularly memorable slow-motion evisceration atop a waterbed), Pieces is an essential slice of Spanish splatter and more gruesome than ever on Blu-ray.
Sold out? Don't worry, a standard dual format release from Arrow Video will be releasing on the same day.
Pieces (BD/DVD/CD/Vinyl/Puzzle) – DELUXE LIMITED EDITION – ARROW STORE EXCLUSIVE
DELUXE LIMITED EDITION CONTENTS:
Brand new 4K transfer from the original camera negative
Two versions of the feature: Pieces, the US theatrical version, and Mil Gritos Tiene La Noche, the original uncensored director's cut, presented in Spanish with original score by Librado Pastor [Blu-ray exclusive]
High Definition Blu-ray (1080p) and Standard Definition DVD presentations
Original English and Spanish Mono Audio
Optional English subtitles for the deaf and hard of hearing
5.1 Vine Theater Experience
Alternate Re-score by composer Umberto
Brand new audio commentary with The Hysteria Continues
It's Exactly What You Think It Is! – brand new featurette offering up an appreciation of Pieces by various filmmaker fans
Brand new interview with art director Gonzalo Gonzalo
Pieces of Juan – a career-spanning interview with director Juan Piquer Simón
The Reddest Herring – extensive interview with actor Paul Smith, including a discussion of Pieces
Audio Interview with producer Steve Minasian
Image Galleries
Theatrical Trailer
Reversible sleeve featuring original and newly commissioned artwork by Marc Schoenbach
Collector's booklet featuring new writing on the film by critic Michael Gingold
Soundtrack CD featuring the entire original score
Limited Edition 180 gram 12" Vinyl of the original score, featuring expanded artwork by Marc Schoenbach
100-piece jigsaw puzzle replica