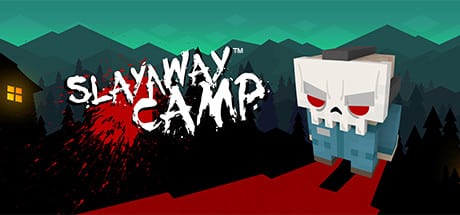 SLAYAWAY CAMP
Developed and Published by Blue Wizard Digital Ltd
Available for Windows, Mac, Linux and SteamOS
When you watch a slasher film, what do you watch it for? The kils, of course! The cool bunch of devs at Blue Wizard Digital Ltd. have taken one of our favourite genres and made a cute, if a little frightening, game where the player controls the serial killer and you must dispatch of all the teens and any appropriate adults nearby in order to teleport through the portal of hell to your next scene of carnage. Sounds like fun? You betchya it is!
Each 'level', as depicted as a VHS tape, stars the same killer all the way through with up to 15 scenarios to play to complete the level. Your killer character will appear in the scene along with a number of victims. Using the mouse, the player can move the killer around the environment but the character will continue to travel in a direction until they hit the wall/edge or a piece of environment. Herein lies the challenge of the game. In the early scenes, there's probably more than one way to skin a cat move your killer so they may kill the teens but the further into the level you get, the scenes become that much more difficult with the introduction of obstacles and enemies such as water to drown in, fire to be burned by and policemen to be arrested by. The environmental dangers, such as the campfire and bodies of water, can be utilised to kill your victims rather than meeting them face-to-face to slaughter. By brushing past the victims, you're able to scare them and witness them run off in a direction that may lead them into a death of their own without ever laying a finger on them. Sometimes these are necessary methods to kill whilst other times it's paramount to avoid these "accidental" type deaths in order to kill all the victims in the level. Once the victims are all wiped out, a burning pentagram will appear which is the only way to exit and officially complete the scene. There's been many times where I've killed all the screaming teens in a scenario but left myself in an awkward spot where it's impossible to reach the pentagram portal which means I have to replay the scene and find an alternative route to kill them off so that I may officially complete and move onto the next scene. Sometimes I'm stumped as to what the solution may be so Death kindly allows you to pay for hints and if you're really stuck you can pay 100 coins to watch how the scene can be completed before doing it yourself.
Slayaway Camp is lots of fun especially as a fan of horror movies. Making each level an actual "movie" of sorts, labelling them Slayaway Camp, Slayaway Camp 2, Slayaway Camp 2.5, Slayaway Camp 3D and so on really pays tribute to the horror movie franchises we love. It's plain to see the inspiration from Friday the 13th and other horrors with the killer character changing between the different levels, one of which includes a clown – Pennywise anyone? Successfully completing a scene and the bonus kill game directly afterwards rewards you with coins which can be spent in the menu buying new inventive kills which is a great way to spice up any level and scenario, though it's completely random which kill your character will end up executing with the player having no input or control whatsoever. This isn't a bad thing. If anything, it's a nice surprise to see your kill in action when the game randomly displays it.
The slashtastic puzzle game is insanely cute and very well made with the bonus of a fitting soundtrack (did I hear a bit of Goblin/Claudio Simonetti inspired music?), making it an enjoyable game to dip in and out of or to play continuously. The game, which is available on Steam, also boasts Steam achievements as well as trading cards and partial controller support, though it's as easy playing with a mouse as it is controller with minimal controls needed. Slayaway Camp provides a challenge without being impossible to do (the hints/solution can always be bought) and really makes you think as you plan out which direction to move in order to successfully kill all the victims and reach the pentagram portal.
Any horror fan will adore what has been produced here and I'm sure, like me, they'll have a lot of fun playing the serial killer for a change. Blood, guts ahoy!
Rating: