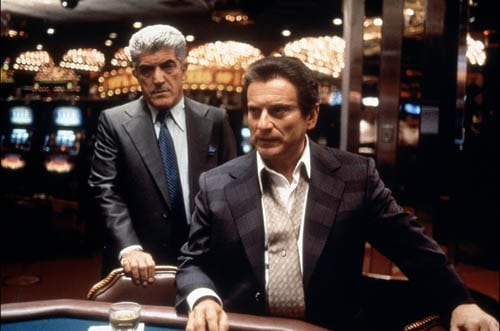 Gamblers can take a rewarding break after winning at bitcoin live casino online gambling and watch some great gambling movies. Have you seen the best of casino related movies? Some of the handpicked ones are mentioned below and their DVDs are still available. A few of these are based on actual life stories and events and can give you a feel of real life casino champs.
Casino:
Casino is an all time classic movie which was released in 1995. The plot is based on two Las Vegas based mobsters with the story a thrilling drama revolving around their lives. One of them is obsessed with greed while the other in contrast is trying to live a positive life by building a respectable career in the gambling industry.
The 178 minutes movie starred big names like Robert De Niro, Joe Pesci, Sharon Stone and James Woods.
The Sting:
Another great gambling themed movie, this classic unfolds the story of a young conman. This young fellow is based in Chicago and the plot revolves around a thrilling story in which he is out seeking revenge for the death of his partner who was recently murdered.
The movie was released in 1973. This 129 minutes movie was directed by George Roy Hill and stars Paul Newman, Robert Shaw, Robert Redford and Charles Durning.
Rounders:
Released in 1998, Rounders is another interesting frim for casino aficionados. The story talks about a man who had given up gambling. But he returns to playing poker so that he can help his best friend in paying off money which he owns to the loan sharks.
The movie was directed by John Dahl. This 121 minutes movie had great actors like Matt Damon, Gretchen Mol, Edward Norton and John Malkovich.
Ocean's Eleven:
Who doesn't remember this one! It was in 2001 that we saw the release of this very popular casino movie remake. The plot involved a huge heist by a team of eleven members led by a conman called Ocean. This team of robbers plans a heist in three casinos based in Las Vegas concurrently and execute it beautifully.
This 116 minutes movie was directed by Steven Soderbergh. The film starred George Clooney, Julia Roberts, Brad Pitt, Matt Damon amongst other top actors.
The Cincinnati Kid:
The film was released in 1965 and the story is about a young poker player. This character is determined to make it big in the poker circles. This movie is directed by Norman Jewison.
The 102 minutes movie stars Steve McQueen, Edward G. Robinson, Ann-Margret and Karl Malden.
Maverick:
Among the top casino movies of all times, Maverick released in 1994 also holds a prominent place. The plot of the film revolves around a poker player who is keen on playing in an upcoming major poker tournament. He is trying to collect the bankroll needed for the tournament.
The movie which was directed by Richard Donner was 127 minutes long. It starred Mel Gibson, James Garner, Jodie Foster and Graham Greene.
High Roller – The Stu Ungar Story:
The Stu Ungar Story is a biographical movie based on the true life story of Stu Ungar, a famous poker player. The film which premiered in 2003 was directed by A.W. Vidmer. Leading actors of this 120 minutes long film include Al Bernstein, Michael Imperioli, Andrew N.S. Glazer and Brian Kaplan.
Croupier:
Lastly we have Croupier, this film is really worth seeing especially if you are a modern film noir fan. This is a really dark, really well done film that doesn't gloss over the seedy side of the Casino business. It was one of the better movies I've seen in a long time. It doesn't romanticise the profession, far from it, but it does show casino's and gambling in a certain seedy, but appealing light. I recommend the movie, not just to casino lovers or card fans but to anyone looking for a great depiction of the industry and how it can both ruin and save one's life.