Satanic (2016)
Directed by: Jeffrey G. Hunt
Written by: Anthony Jaswinski
Starring: Anthony Carrigan, Clara Mamet, Justin Chon, Sarah Hyland, Sophie Dalah, Steven Krueger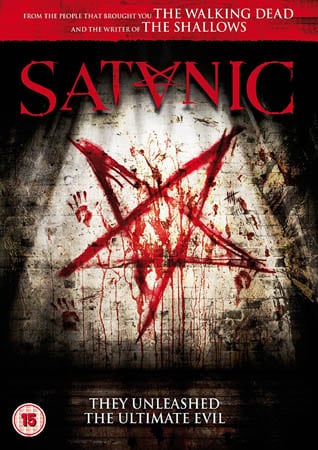 SATANIC (2016)
Directed by Jeffrey G. Hunt
Available on DVD
Four friend,s on their way to Coachella music festival, stop off in L.A. for a couple of days to do some sight-seeing. Wannabe satanists Elise and Seth drag Chloe and David around the wicked and depraved hotspots including Anton LeVey's Church of Satan, the residence of Sharon Tate and a witchcraft shop. It's at the latter where the duo get on the wrong side of the shop owner who they suspect has a penchant for performing real rituals after catching a glimpse of some questionable objects in the curtained room at the back of the shop. Wondering what he might be getting up to after hours, the friends decide to follow the shop owner home where they witness more than they bargained for as a young woman looks to beselected for sacrifice. Disrupting the ritual to save the girl's life, the friends are chased away by the armed satanists. Relieved to be alive but thoroughly freaked out, the friends are concerned about the events which took place but they're soon put at ease when sacrificial lamb Alice gets in contact with them. After accepting their offer of a bed for the night, Alice shares a little about her involvement with the satanists before inviting the four friends to join her in a ritual of her own to contact Lainey Gore, a woman who supposedly slit her own throat in the very hotel room which they're staying in. The willing accomplices soon realise they've bitten off more than they can chew when they become part of a series of unexplained horrors.
SATANIC is a creepy horror from Anthony Jaswinski, the writer of The Shallows and Vanishing on 7th Street, and directed by Jeffrey Hunt who's long served on television shows, directing episodes of Scorpion, Gotham, CSI, The Vampire Diaries and Terminator: The Sarah Connor Chronicles as well as playing director and steady-cam operator on CSI. With a title like SATANIC, I assumed that this would be another low budget ouija board/possession fare but Jaswinski and Hunt have pulled something a bit different out of the bag for viewers to enjoy.
Leading the cast of SATANIC is Sarah Hyland as Chloe, a sensible young woman who's convinced by her selfie-lovin' cousin Elise (Clara Mamet) and cocky boyfriend Seth (Justin Chon) to take a trip round the occult sites of Los Angeles. Forced to drive them round the city is Chloe's buff boyfriend David (Steven Krueger), a Christian who doesn't believe in the nonsense Elise and Seth do but openly participates in it regardless. When opportunities arise involving satanism and the like, it's Chloe rather than David who's the hesitant one, with the group seemingly pressuring her to join the activities such as stalking the shop owner and agreeing to be part of Alice's ritual. When shit hits the fan, it's easy to see who'll end up succumbing to evil first whilst Sarah Hyland's brilliant performance of a woman in emotional distress solidifies her worth as the film's leading protagonist.
Rather than be all-out spooky, the horror of SATANIC is one that slowly creeps upon you. These kids are just going about their day-to-day life, enjoying the sights and sounds of L.A. and getting into mischief. It's only when they open their hearts to darkness does the City of Angels turn into a living hell for them. However, it's not as you might imagine. For everyone else, L.A. remains unchanged but for the four friends, they feel something sinister is hunting them down. They've been marked and all they want to do is shake it off and get the hell out of L.A. but will that solve their problems?
SATANIC feels fresh and inspired with a talented young cast pushing the story forwards. The competent script and believabilty of the characters adds to the charm whilst the choice to explore L.A. and use the environment to their advantage is a welcomed decision. The sparse use of blood is quite refreshing too as the film relies more on unease to spread the fear though when the red stuff is spilled, it's quite effective.
Though by no means a perfect ending, the finale of SATANIC does work quite nicely, referencing earlier events and imagery, even if there's a few loose ends to be discussed. Overall though, it's a thoroughly entertaining indie horror that sticks out amidst the sea of modern genre movies as something a bit different – a film that relies on storytelling rather than the amount of titties it can flaunt or the volume of blood it can spill.
A nice little entry to kickstart 2017. If you fancy a bit of light horror that's different to the rest, SATANIC is well worth a look.
Rating:
Save
Save