Point of Terror (1971)
Directed by: Alex Nicol
Written by: Chris Marconi, Ernest A. Charles, Peter Carpenter, Tony Crechales
Starring: Dyanne Thorne, Leslie Simms, Lory Hansen, Peter Carpenter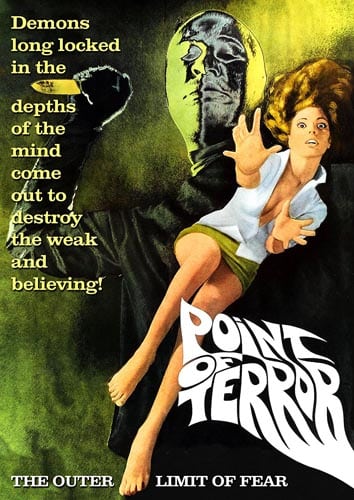 POINT OF TERROR (1971)
Directed by Alex Nicol
Bar singer Tony Trelos is looking for his big break into stardom and he believes he may have found it after a chance encounter at the private beach with owner and record producer Andrea Hilliard. Coming to a mutual agreement that will satisfy both parties, Mrs Hilliard agrees to sign Tony to her husband's record label but her husband Martin has other ideas when he suspects his wife has more than business on her mind.
Opening up with a catchy number, a song that is repeatedly sung and used throughout the movie, Alex Nicol's POINT OF TERROR is an exciting adulterous thriller that sees how far two individuals can push their own agendas before it eventually catches up with them.
Leading the film is handsome singer Tony Trelos (Peter Carpenter). The house singer for the Lobster House, Tony dreams of making it big and becoming somebody, not just a bar singer playing to the same crowds day in, day out. His girlfriend, waitress Sally, hopes for a future for both of them but this is put on the backburner when Tony meets the confident temptress Andrea Hilliard, wife to wheelchair-bound record label owner, Martin Hilliard. Played by Dyanne Thorne, Andrea is a woman who gets what she wants but despite all the wealth her husband has lavished her with, she craves more. Hungry for passion and a vigorous sex life, she spies Tony as someone who could fulfill her needs and he's more than happy to comply.
Watching the film unravel, it's obvious that the pair are to be found out by a rightly disgruntled Martin Hilliard but it seems as though Andrea wants to be discovered as she parades Tony right underneath her husband's nose. Drowning her sorrows at every opportunity, it seems that Andrea's life hasn't turned out quite how she'd planned it and her only excitement comes from snaring attractive men for a bit of fun time. However, Andrea isn't the only guilty party here as Tony is just as manipulative and selfish, if not worse. He only cares about one thing and that's himself and as much as Andrea is using him for her own personal satisfaction, he seems to be using her to set himself up for life, no matter who he hurts in the process.
Though a simple idea at the core, what really drives POINT OF TERROR is the drama. Both Dyanne Thorne and Peter Carpenter deliver a determined performance to show how driven both their characters are respectively and whilst their passion together is electric, it can easily go the other way. Tony and Andrea are such brilliant manipulators that it's only a matter of time before the honeymoon period ends and their true colours are revealed. However, the film isn't all drama as POINT OF TERROR embraces its comedic performances from randy bar owner Charlie and the waitress he has a soft spot for as well as Andrea's best friend, the stylish Fran (Leslie Simms), who occasionally finds herself getting rather too merry that she needs carrying home by a big, strapping hunk who can easily manouevre her stiff-as-a-board body throughout the building. These light hearted moments, the scene with Fran especially, bring a wicked humour to the movie which complements it nicely and doesn't detract from the main narrative's explosive plot.
With its punchy performances and interesting camera angles, POINT OF TERROR hits all the right notes that we've grown to love and respect from budget films of the 70's, although the cop-out conclusion may leave some viewers a little disgruntled.
Rating:
Save