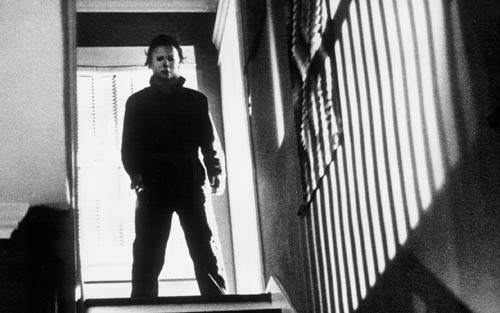 Yes I am excited!
While Jason is at the bottom of Camp Crystal Lake and showing no signs of rising,  the man that started the 70's/80's slash boom is coming back to make one more trip to Haddonfield and being one of Michael Myer's biggest fans…..I can't wait!
Yes, a new Halloween film is penciled in for an October 19th 2018 date and director David Gordon Green and writer Danny McBride have been talking about the planned sequel.
While the snippets below offer nothing really new to what we know, McBride who said a few weeks back, that the film will not be sequel but a continuation of Parts 1 and 2, he did throw up the word "reimaging" which does make many horror fans sigh in worry.
This is what he said while talking to the guys over on Indiewire:
"We can't talk for too much about the Halloween reboot, but David and I had a long talk with each other about when people do these with movies, where it goes wrong. 'What pisses me off when it comes to something I like?' We all came to the decision that remaking something that already works isn't a good idea. So we just have a reimagining instead."
While Green offered this little insight!
"Jason Blum came to me. I'm a huge horror fan and I've never made one. I developed Suspiria for several years with Luca Guadagnino, who's finishing directing it. It's going to be incredible. I woke up at a hotel and had this email from Jason that said, 'Halloween reboot. You get it. What do you say?' I was just like, 'What the fuck does this mean?' I wrote him back and said, 'Call me immediately, my body is reacting to this,' because Halloween is one of those influential movies that I was never allowed to see and lied about having not seen to my parents for years. It hit all the right taboos, and it had a lore to it. We're just writing it now.
The coolest part about that was going to John Carpenter and pitching him. If he didn't like the take, it wouldn't bode well. He's one of my biggest heroes. I think we were just so concerned about getting the job that we didn't think about how fucking scary that was to go sit down in front of him to tell him how we'd continue the story he'd created. It wasn't until afterward that I realized, 'Fuck, this could go so badly. We'll be really hurt if he schools us right now.'
Its plain to see that Green and McBride have a lot of affection for this franchise and that can only be a good thing.  With John Carpenter liking their pitch and the film now in its planning stage, this is an exciting time to be a Halloween fan, and no matter what we get, a sequel?, a reimagine? it has to be better than the ghastly, awful last film in the series….
…………..and please do not have a Busta Rhymes in sight…………..