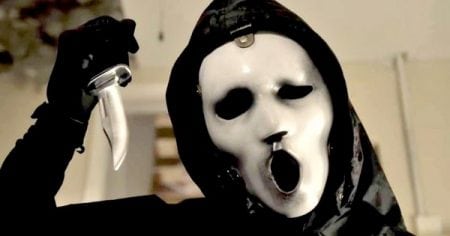 When it comes to the Scream franchise, I totally adore films 1, 2 and 4, but have a love/hate relationship with its third.  Some cool kills and scenes, raise the bar, but a weak killer reveal and a poor motive, lowers it again and its the kind of same feeling I have with MTV's Scream series. I constantly complain about it, but I tuned in every week, just in hope that it "becomes good", which in most cases I was left totally disappointed.
After the ghastly Halloween special, MTV have pulled off a shocker by announcing a third season will be set around a new cast and storyline, which on paper sounds great, but in truth leaves me kind of angry.
Does this mean that we will never see the likes of Emma and Brooke again?  Who checked in under the name "Mr James?" in the finale of the last episode?
Its great that we are having a reboot, because the show needs it, especially if it goes back to its roots, with the original Ghostface in tow, but why didn't MTV use the Halloween special to tie up all the loose ends?  Is this fair on those who have stuck by it from the start?
With the original cast being told that they can pursue other roles, it does seem the case that we will never see the Lakeside 6 again, as we  wait now to see what the next season will bring.