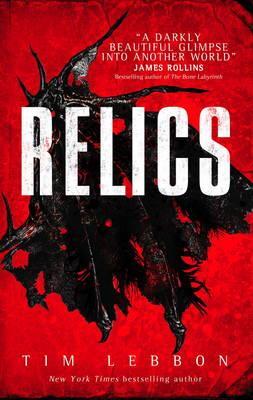 RELICS
by Tim Lebbon
Published by Titan Books in paperback
American Angela and Brit Vince are your ordinary loved up couple living in London… or so Angela thinks. When he doesn't come home one evening, Angela goes into panic mode. Is there another woman? Has he left her for good? With no replies to her missed calls or text messages, Angela fears her perfect relationship has gone to tatters. Refusing to accept that the man she loves could just disappear without telling her to her face, she decides to hunt him down but what she discovers along the way is even bigger and dangerous than she could ever imagine as Vince's secret life is exposed.
Tim Lebbon's work of dark fantasy fiction RELICS grips with an opener that suggests bloodshed, potentially committed by a woman and her partner, as she is kept in a holding cell in American police custody. The talk of so much death leads us to question as to what the hell has gone on and it's from this unfortunate situation that we backtrack to 5 days earlier where it all began. Angela and Vince seem like the perfect couple – loved up and happy. A criminology student, Angela spends her time working on her degree whilst Vince is out at work but when he doesn't return home, she fears the worst. No amount of phone calls or texts are answered and she begins to panic until a note is pushed through the door, seemingly from Vince, instructing her not to look for him. Angela, knowing this is out of character, decides to ignore the note and do exactly that – look for him. Her investigation takes her to some dark places where she meets shady people, such as merciless mobster Fat Frederick Meloy, and a revelation about Vince's true career – acquiring curious artifacts, relics, that shouldn't even exist. Vince's highly sought-after skills make him one of the go-to guys in the niche black market business and it would seem he's bitten off more than he can chew. With Vince missing, various characters come out of the woodwork in a bid to find him leaving Angela unsure who to trust. Her quest to find the man she loves takes her to many places she never knew existed to witness many things she never thought in her life could ever be. Vince's exploits threaten their very lives and those around them as she attempts to find him alive before someone else does.
RELICS is a flowing piece of fiction that's really easy to get stuck into thanks to the familiarity it has with people's everyday lives. Angela and Vince seem like your average couple. They like to giggle about the neighbours in the flat above having their morning romp, after which Angela settles into the day with her research and a catch-up with best friend Lucy. It all feels very straight-forward until her life is catapulted into that of someone on the run, especially when her every move is being watched by a duo who may or may not wish to help Vince and would quite happily kill her for a lack of compliance. Unable to trust anyone she meets leaves Angela isolated and after gaining a glimpse into Vince's other life, nothing can be taken for granted anymore. This cat and mouse chase thrills as, like Angela, the reader discovers what exactly thrives beneath the streets of London, away from the average human eye. With it brings a frightening underbelly as criminals interested in the black market goods would do anything, even kill, to get what they desire leaving Angela in a very dangerous situation indeed! Never knowing what's behind any street corner left me on the edge of my seat, eager to turn the next page to reveal what other horrors lied in wait.
Tim Lebbon has crafted a brilliant story, a fantastical one grounded in a relatable reality which has its own share of ups and downs. The joyful moments maybe in short supply with the seemingly endless scenes of torture and brutality but the underlying thread of hope really pushes for a pleasing conclusion. The characters are well rounded, even if a little annoying at times (Angela's over-the-top declarations of love for Vince can grind after a bit), but as a whole, you feel for the various characters, whether it's fear, concern or even anger. Lebbon manages to maintain the momentum thanks to the driving, curious narrative with a conclusion that leaves the door open to a possible sequel or book series. It works perfectly fine as a standalone novel though with its open-ended conclusion allowing the story to develop in the reader's imagination if they so wish.
The blend of fantasy, horror and the criminal underworld of London moulds RELICS into a punchy little supernatural thriller.
Rating: