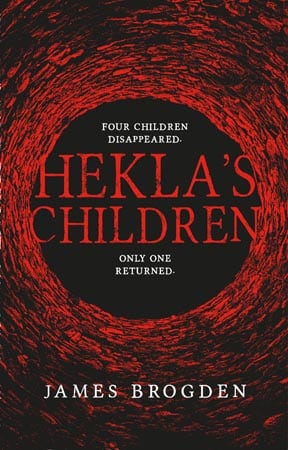 A decade ago teacher Nathan Brookes watched four of his students walk up a hill and vanish. Only one returned – Olivia – starved, terrified, and with no memory of where she'd been. Now a body bearing similarities to one of the missing children has been found in the same woodland where they disappeared all those years ago. What at first seemed like a new clue is soon identified as a Bronze Age warrior, nothing more than an archaeological curiosity. But as Nathan starts to find himself plagued with terrifying visions of the students, he can't shake the feeling that there's something more to the discovery of the dead warrior. Then Olivia shows up, half-mad and determined to do whatever it takes to return the body to the earth, because he is the only thing keeping a terrible
secret at bay…
Now on March 7th 2017 evil will find a way through
Combining the surrealist horror of Joe Hill's Horns with the mythical fantasy of Robert Holdstock's Mythago Wood, HEKLA'S CHILDREN is a beautiful, contemporary new take on the classic dark fantasy genre bound
up in a gripping, page-turner novel. Author James Brogden is an exciting new British voice on the genre scene, tipped for breakout literary success.
JAMES BROGDEN is the author of The Narrows, Tourmaline and The Realt. His horror and fantasy stories have appeared in anthologies and periodicals ranging from The Big Issue to the British Fantasy Society Award-winning Alchemy Press. He spent many years living in Australia, but now lives in Bromsgrove, Worcestershire with his wife and two daughters.