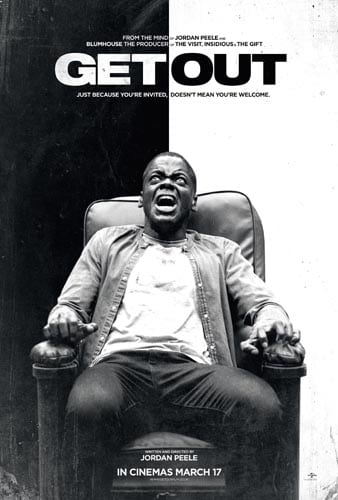 With Get Out continuing to do well at the box office and in line to become one of Blumhouse's most profitable films, the original intended ending has been revealed. If you haven't get seen Get Out [and if you haven't, go and see it tomorrow], then SPOILERS AHEAD!
So you remember that Chris kills Rose's family and is about to kill her when a police vehicle pulls up. We think that Chris has now had it, but out steps his friend Rod. The two drive away and Rose dies from her injuries. It's a happy ending, and, while I liked Get Out very much [you can read my review elsewhere], I wasn't entirely sure that the ending fit.
Now I'd actually found out about the original ending just before I wrote my review, but I certainly didn't want to describe it then. However, on the BuzzFeed podcast Another Round [via ScreenCrush], writer-director Jordan Peele revealed it the other day. First, co-host Tracy Clayton described the original ending this way:
"There is an alternate ending in which the cops actually come at the end. He gets locked up and taken away for slaughtering an entire family of white people and you know he's never getting out, if he doesn't get shot there on the spot".
Peele confirmed this is what happened, and explained why he came up with that ending:
"In the beginning when I was first making this movie the idea was, 'OK, we're in this post-racial world, apparently. That was the whole idea. People were saying, 'We've got Obama so racism is over, let's not talk about it.' That's what the movie was meant to address. Like look, you recognize this interaction. These are all clues, if you don't already know, that racism isn't over. So the ending in that era was meant to say, look, 'You think race isn't an issue? Well at the end, we all know this is how this movie would end right here.'
I have to say, I like that ending very much. However, Peele noticed people were getting more upset and angrier with the deaths of black men like Trayvon Martin and Michael Brown, and he wanted to position the ending with Chris as a hero rather than a victim:
"It was very clear that the ending needed to transform into something that gives us a hero, that gives us an escape, gives us a positive feeling when we leave this movie. There's nothing more satisfying than seeing the audience go crazy when Rod shows up".
It seems that the alternate ending will be on the Blu-ray release of the film so soon we will all be able to see how it plays.