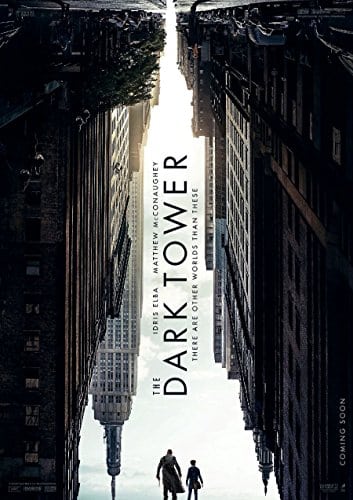 A post-apocalyptic story concerning Roland Deschain aka The Gunslinger, who is seeking a Dark Tower, the nexus of all universes, which would preserve his dying world. Along the way, he faces off with Walter O'Dim aka The Man in Black who is determined to prevent him from toppling the Tower. Caught in the battle of good-vs-evil is young Jake Chambers whose earthly visions of the Gunslinger turn out not to be the stuff of dreams.
The first official international trailer for Sony/MRC's The Dark Tower, a western-tinged [listen out for a bit of the For A Few Dollars More soundtrack on the trailer] dark fantasy, the latest in an incredibly long line of Stephen King adaptations, has just been released and you can view it below. Based on the eight-book series of the same name published between 1982 and 2004, the film pulls themes and story threads from all of the tomes. It also pays homage to and links together other King novels; in the trailer, try to spot a photo of the exterior of Oregon's Timberline Lodge where The Shining was shot. There's apparently also an It reference, but I was too dumb to pick up on it!
The Dark Tower is directed by Nikolaj Arcel, written by Arcel, Akiva Goldsman, Jeff Pinkner and Anders Thomas Jensen, and stars Idris Elba, Matthew McConaughey, Katheryn Winnick, Abbey Lee and Jackie Earle Haley.
The US release set is currently set for August 4th, while the UK release at the time of writing is August 18th.