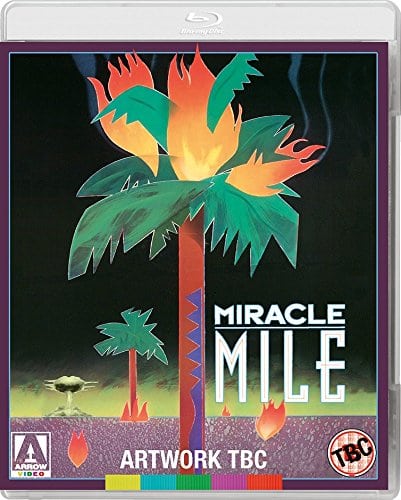 Arrow Video are set to release MIRACLE MILE on Dual Format on 16th October 2017
When Harry (Anthony Edwards, Zodiac, ER) meets Julie (Mare Winningham, Turner & Hooch) at the La Brea Tar Pits, it's love at first sight. But when Harry's alarm clock fails to go off, he misses their scheduled date by several hours. Alone on a street corner at four in the morning, he answers a ringing pay phone and picks up a garbled message that all-out nuclear war is set to begin in an hour's time. With the clock ticking and the city spiralling into chaos, can Harry somehow track down Julie and get them both to safety before Armageddon?
In 1983, American Film magazine called Miracle Mile one of the ten best unproduced screenplays, though Hollywood baulked at its idiosyncratic mix of black comedy, romance and nuclear holocaust. Years later, writer Steve De Jarnatt (Cherry 2000) bought back the rights to his own script and in 1988 made the film on his own terms. The result is a madcap end-of-the-world adventure like no other, as hilarious as it is disturbing, featuring scintillating views of nocturnal LA and a hypnotic score by Tangerine Dream.
SPECIAL EDITION CONTENTS:
High Definition Blu-ray (1080p) and Standard Definition DVD presentations
Original English stereo soundtrack (lossless on the Blu-ray Disc)
Optional English subtitles for the deaf and hard of hearing for the English soundtrack
New video interview with writer/director Steve De Jarnatt
Audio commentary by Steve De Jarnatt
Audio commentary by Steve De Jarnatt, cinematographer Theo van de Sande and production designer Chris Horner
Julie & Harry, an interview with actors Mare Winningham and Anthony Edwards
Supporting cast and crew reunion featurette
The Music of Tangerine Dream, an interview with co-composer Paul Haslinger
Deleted scenes and outtakes
Rubiaux Rising, a short story read by Steve De Jarnatt
Reversible sleeve featuring original and newly commissioned artwork TBC
FIRST PRESSING ONLY:
Collector's booklet featuring new writing on the film by Tim Lucas