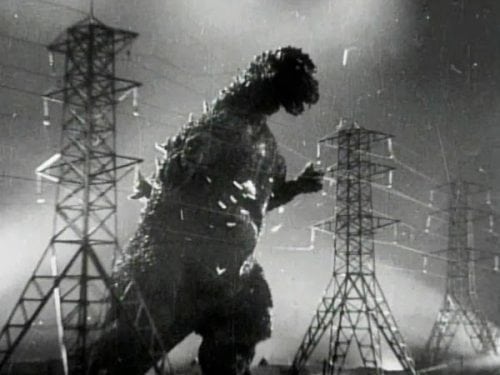 A look into the origins and history of Gojira – and why it became so popular
Gojira may be an unfamiliar word to some, but is simply the name for Godzilla. Back in the 19th Century, a langauge system called 'Romanization' was introduced. It might sound complex, but it was actually just a way of writing Japanese using the Roman alphabet instead of their characters to help English readers and writers – hence Gojira. So when we talk about Gojira here, we just mean the mighty Godzilla monster that we all know and love.
The story of Gojira begins back in 1954; when Toho Studios released the first ever film of the Godzilla franchise that is still running today. Since then, the studio has produced 28 further films, but the fictional giant has gone on to star in a handful of Hollywood films, video games and television shows, securing a place in history as a pop culture icon.
Although widely recognised, not many are familiar with the backstory behind this King of the Monsters. Gojira is so-named because of the blend of words 'gorira' and 'kujira', which can be translated to gorilla and whale. As a massive dinosaur-like creature from the deep, this is pretty appropriate. It seems simplistic, but it formed a name recognised the world over.
Gojira, as a character, started from two key things. Firstly, the Japanese fear of nuclear weaponry post-Hiroshima and Nagasaki, that resulted in the creation of a monster metaphor for the Japanese people. The second key cause was the Hollywood success of King Kong in the 1930s.
When a project at Toho Studios fell through, the Gojira project was born. A producer at the studio was a big fan of these Hollywood films like King Kong, which luckily, were as fascinating to him as they were successful at the box office. Toho Studios knew they wanted a monster, but it was down to such Japanese disasters as Hiroshima that a radioactive creature was born.
In 1954, the studio released their first film starring the monster and the first of a massive franchise. It was a great success that incidentally spawned an entire universe full of similar creatures and epic battles between giant turtles and three headed dragons. What's most fascinating is that Gojira wasn't a great idea for a hero, but a great idea for a villain, which gradually became everyone's favourite monster.
Although it began as a metaphor for the Japanese fear of another bombing disaster, it evolved into a character that children could enjoy in a more heroic role. Ending up somewhere in the middle ground between good and evil, Gojira was already famous worldwide.
Proud owner of an MTV Lifetime Achievement Award and even a star on the Hollywood Walk of Fame, it's safe to say the monster made a name for itself on a global scale. Most recently, in 2015, Gojira was named a cultural ambassador to help boost tourism in Tokyo, and starred in its 29th Toho production Shin Godzilla. Shin Godzilla has already made its mark on Japan and the US, but is now making its way over to the UK for a limited cinematic release that was recently extended to 100 screens across the country.
Looking back at the fear of nuclear disaster, Gojira's character was rebooted for the third time by Toho to bring Japanese audiences a monster in modern Japan, post-2011, which saw the Fukushima Daiichi nuclear disaster, as well as the Thoku earthquake and tsunami.
With this many successful films under their belt, there's every chance we'll see more of Godzilla in the future, but for now, we can catch the creature in UK cinemas on the 10th August this summer.
https://www.youtube.com/watch?v=yk7KaxjTz-0&feature=youtu.be
Save
Save