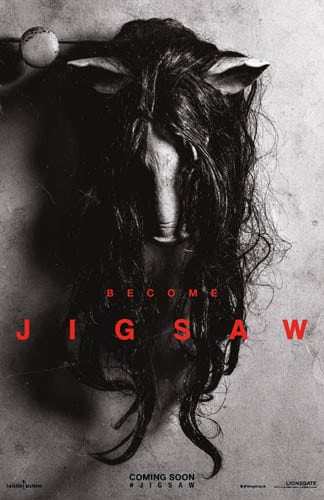 Lionsgate have released the first official clip from Jigsaw, and it's the kind of thing you've come to expect and if you're a fan love – several people waking up with buckets on their heads and chains around their necks, Jigsaw introducing the "game", then pulling some lever that begins to pull them to a wall that's covered in saws. You can view it just below.
SYNOPSIS:
After a series of murders bearing all the markings of the Jigsaw killer, law enforcement find themselves chasing the ghost of a man dead for over a decade and embroiled in a new game that's only just begun. Is John Kramer back from the dead to remind the world to be grateful for the gift of life? Or is this a trap set by a killer with designs of their own?
Jigsaw is directed by Pete and Michael Spierig, is written by Josh Stolberg and Pete Goldfinger, and stars Tobin Bell, Mandela Van Peebles, Laura Vandervoort, Brittany Allen, Callum Keith Rennie, Matt Passmore, Hannah Emily Anderson, Josiah Black, Shaquan Lewis, Michael Bolsvert and James Gomez.
It's out 27th October.