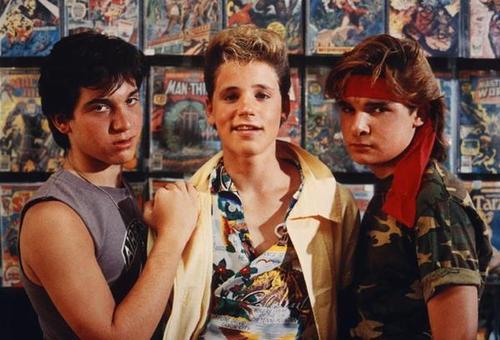 Who doesn't love The Lost Boys?
Now celebrating its 30th birthday, (damn I feel old), its been revealed that before Marvel put the stamp on all scenes that were "Post Credit", its been revealed that the Vampire flick also had one planned, but for budget reasons, it never happened.
What was it?  Hints of a sequel?  Another lost boy out there?  Actually no!  In fact this was quite cool.  Here is the draft from the script!
INT. LOBBY/CAVE – NIGHT
Deserted, the CAMERA PROWLS through the Rock 'n' Roll ruins.
Eventually the CAMERA pushes toward the old mural painted on the lobby wall. The mural depicts a typical day on the boardwalk in the year 1900.
CAMERA MOVES CLOVER AND CLOSER TO THE MURAL
And HOLD TIGHT on one painting figure in particular. A man in a straw hat. He's grinning broadly…and he's most definitely Max. He's talking to a group of young men.
That's it really, a suggestion that Max had in fact been around for a very, very long time!  A simple final shot, but a good one that we sadly missed out on.