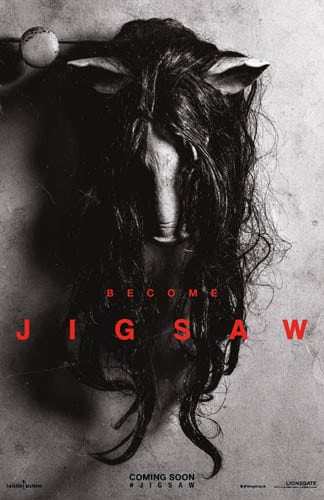 Like it or loath it – I can't say that I'm a fan of this series myself though I know that I'll still be dragging myself to the cinema again – there's a new Saw film coming out [they sure lied seven years ago when they said there weren't going to be any more], and two new TV spots have been released in which you can glimpse some of the traps.
Not many plot details have been revealed about this, but we do know that neither Costas Mandylor nor Cary Elwes will be returning to play their respective characters, despite the fact that they both ended up becoming Jigsaw apprentices in earlier installments. The original Jigsaw himself, Tobin Bell, will be back in some capacity though.
SYNOPSIS:
Bodies are turning up around the city, each having met a uniquely gruesome demise. As the investigation proceeds, evidence points to one man: John Kramer. But how can this be? The man known as Jigsaw has been dead for over a decade.
The film is directed by Michael Spierig and Peter Spierig, written by Pete Goldfinger and Josh Stolberg, and stars Tobin Bell, Mandela Van Peebles, Laura Vandervoort, Brittany Allen, Callum Keith Rennie, Matt Passmore, Hannah Emily Anderson. It's out on October 27th for Halloween.