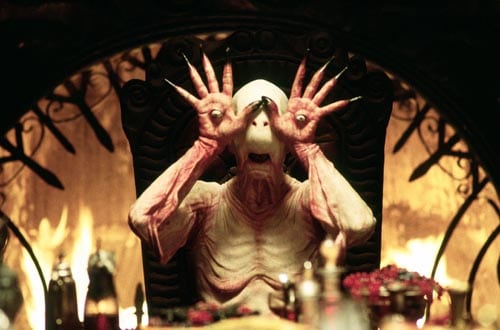 Horror films have formed one of the most popular genres over the years, but how have they managed to stay so relevant throughout the decades, from Nosferatu in 1922 to It in 2017? The formula has been one constructed of embracing new ideas, new technologies, and reinventions of long-lost tales. In fact, if you have any doubts at all over the sheer range of films in this genre that have been huge successes, take a quick glance at Empire magazine's Top 50 horror movies ever made. You can, of course, disagree with the choices in this list, but the fact remains that our favourite genre is one that takes huge inspiration from a range of sources. One of these sources is, undoubtedly, the world of fairy tales.
A World of Cultural Inspiration
Fairy tales have a complex and long history, spreading far beyond just the tales of the brothers Grimm, who, in the 18th century, collected stories that had been told in some form or other for many generations in central Europe. In more recent times, these tales have started to be reapproached in a format that allows the true horror of the tales to shine through, such as the evil queen in Snow White actually being Snow White's biological mother, in a 2014 translation of the story published by Princeton University Press. This sort of gruesome detail perhaps shows that the world of fairy tales is returning to its more authentic roots, where the horror elements are not hidden away.
This week @AWolfeful is talking to director @IssitaLopez about the classic @RealGDT film, Pan's Labyrinth! If you haven't seen the film, here's the trailer to get you in the mood.https://t.co/E60AgzSF40. And if you haven't subscribed, get on it! https://t.co/09X4tfQCyy pic.twitter.com/nHlAhFAZlB

— Switchblade Sisters (@SwitchbladePod) November 28, 2017
Take the relentless nature of the horror element to Guillermo Del Toro's 2016 masterpiece Pan's Labyrinth as another example. This film took fairy tale ideas and twisted them into something stunningly chilling, although there are of course questions to be raised as to whether this particular film can actually claim to have been inspired by fairy tales; while it presents itself as a parable that has been influenced by them, one of the key influences on the film, Alice in Wonderland, is not actually treated as a fairy tale. Indeed, dig a little deeper and you will see that the genre itself is very tricky to be a part of!
Perhaps one of the most interesting international views on adaptation has come through the interpretation, especially in Japan, of the film Hard Candy, which has been taken as an adaptation of the character of Red Riding Hood, with the prey turning into the predator in both stories and fighting against a character who has committed evil deeds. This adaptation was not necessarily originally intended, but it shows the cultural impact that fairy tales can have on a global scale.
Are Fairy Tales Facing a Grimm Future?
When it comes to news of horror films, the latest mutterings have largely been either all about sequels or mash-up movies that seem very much off the wall and a little bit unlikely to take place. With this in mind, it seems plausible that the 2005 performance by Matt Damon in the Brothers Grimm fantasy film about the notorious fairy tale creators may well have put the idea of fairy tale-inspired movies into a bad place. Despite this, if we look back to the past, we can see that the world of fairy tales, even classics like Snow White, can be made into truly evil (and rather good) horror films, with the performance of Sigourney Weaver enough to remind you why she is more than just an excellent actress in the Alien movies.
Hope for this type of movie making a comeback is low, and what hope there is comes more through the use of other spin-off ideas from fairy tales rather than through the hope that we will see another "pure Snow White or Little Red Riding Hood-related horror film. Indeed, right now we are looking more likely to just end up in a world of never-ending Saw spin-offs, with the recent Jigsaw film likely to get huge numbers at the box office.
So, if there is to be ongoing hope for the fairy tale inspiration, it may need to come from the fact that we are starting to embrace other forms of entertainment technology to indulge our interest in the genre. With the rise of video gaming and mobile gaming, in particular, this may be one area where the fairy tale starts making a serious comeback in pop culture. American McGee's Alice video game from 2000 is a classic example of a fairy tale turned dark, with the titular character wielding a knife and exploring the macabre. But fairy tales have also been embraced by niche video game genres, such as online slots. One of the reasons why fairy tale themes have found a place in this market is how competitive it is. Casino game developers will use various, diverse themes in order to keep customers interested and entertained and stand out from the competition, in the same way that online casinos will also use offers such as no-deposit bonuses – which see casinos giving players some cash for signing up – to attract customers. In the same vein, are also free spin offers, where punters can spin a certain amount of times for free but can still win prizes – these constitute an opportunity for players to sample the selection of available games, including fairy-tale themed slots such as Big Bad Wolf and spin-offs of Robin Hood. All this shows that in a world where adults enjoy the real versions of fairy tales, where the happy ending doesn't always ring true, we may yet get the chance to reclaim this genre in the horror movie area.
So, What Could We See?
Perhaps the biggest issue for the horror genre addressing fairy tale ideas is the challenge to overcome the idea that some of them are not "grown-up" enough to be turned into something that will appeal to adults. Indeed, sometimes the only way that they can be addressed seems to be through the idea of a spoof horror movie, like 1995's Rumpelstiltskin, a film that arguably did its best to try to kill off the idea of horror fairy tales once and for all. In contrast to this, films like Freeway took a popular actress, Reese Witherspoon, and helped to make Red Riding Hood very adult, very quickly by getting the wolf (a character called Wolverton…) to be a serial killer, rather than just a nasty old wolf that ate your dear old grandma, showing that fairy tales can face the real evils of the modern world and be grown up about it in the process.
4th Film for Family Movie Day is RUMPELSTILTSKIN. pic.twitter.com/k9FIuvqfGc

— Brad Henderson (@BradFHenderson) July 30, 2017
With these ideas seemingly cast out for now, perhaps it is time instead to look back at tales like Sleeping Beauty to start to see how a modern interpretation that makes use of suspense, an updated environment, and even an unexpected twist could help to turn a plot like this into a successful movie, in much the same way that 1996's Romeo + Juliet by Baz Luhrman made the original story relevant for a modern audience. If we can see ideas like this start to come through, then we can be safe in the knowledge that we haven't seen Rumpelstiltskin end up having the final word on how to make fairy tales into movie gold.