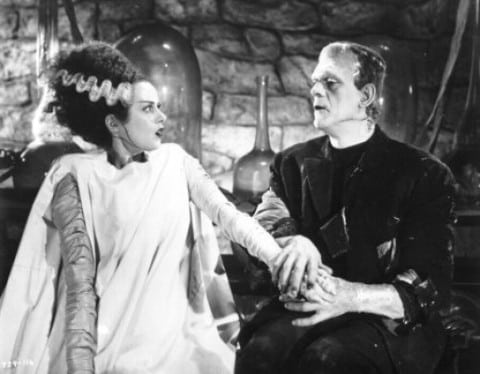 Just when I thought it was safe that my favourite of all the old Universal horror movies – and one of my favourite films of all time – was not going to be remade, along comes the depressing news that the project could be back on.
Three months ago, Universal shut down production on Bride of Frankenstein, which was to be directed by Bill Condon. Javier Bardem and Angelina Jolie had both been in talks to play Frankenstein's Monster and the Bride respectively. But after reports of rewrites, Universal, no doubt stung by the poor reception given to their lackluster new version of The Mummy, shut production down. Things got even worse when writer-producers Alex Kurtzman and Chris Morgan, who were hired as Universal's Dark Universe architects, departed the franchise. I really thought that this misbegotten concept of bringing back to life the classic monsters in generic, CG-drenched action movies, was over.
But no, Omega Underground is reporting that Universal has finally found a new crew to help resurrect Bride of Frankenstein. It includes cinematographer Tobias A. Schliessler, production designer Sarah Greenwood, composer Carter Burwell, and costume designer Jacqueline Durran. However, we're not told who is producing, nor who is directing. We also don't know if Bardem or Jolie are still involved. Rumours are floating around that Gal Gadot has been asked to be in the film. I bet that even more script rewriting is going on at this very moment.
Why? Just why? It's not as if the paying public even seem that interested in this Dark Universe malarky.