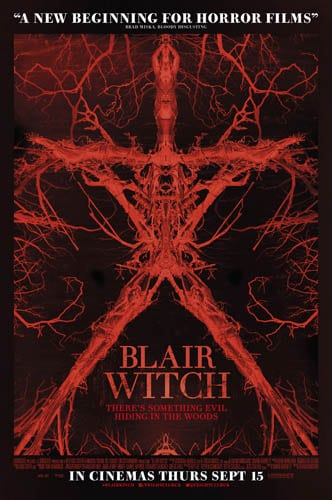 A Blair Witch TV series was first mentioned last year soon after the release of Adam Wingard's belated sequel. While that film [which I can't say that I liked much] was nowhere the hit it was expected to be, the fairly low budget picture still made a profit, and co-director/writer of The Blair Witch Project Eduardo Sanchez said how he'd like to do a TV series.
"For us, it's a very natural thing to go and say, 'Hey, let's do a frickin' Blair Witch show'. You can say it's from the original creators and we can bring in a whole bunch of interesting directors to direct episodes."
"I think that the idea of a Blair Witch anthology has always been very – just a really interesting thing. You're close. You're in the ballpark. You know, and I think it might be one of those things that might be – you know – the more you think about it, you're like, 'That might be the perfect… a TV show.' You know? So, we'll see what happens, but I think that's the next big thing for Blair Witch. Probably TV."
So he didn't really say what the show would be [though I really can't imagine every episode being 'found footage' can you?]. And it was also revealed that
Sanchez no longer owned the rights to the property which are now controlled by Lionsgate, causing speculation as to how involved Sanchez would be in the series. And a few days later the other co-creator of the 1999 film Daniel Myrick said that nobody had even contacted him about the project.
Anyway, 'Deadline' have now reported that Lionsgate have announced several forthcoming digital projects for their newly branded Studio L – and one of them is a Blair Witch series. And that's all we know about it so far. Do you think this could work? There's certainly plenty of vague mythology in the film series that could be explored.