Phantom Thread (2017)
Directed by: Paul Thomas Anderson
Written by: Paul Thomas Anderson
Starring: Daniel Day Lewis, Lesley Manville, Sue Clark, Vicky Krieps

USA
IN CINEMAS NOW
RUNNING TIME: 130 mins
REVIEWED BY: Dr Lenera, Official HCF Critic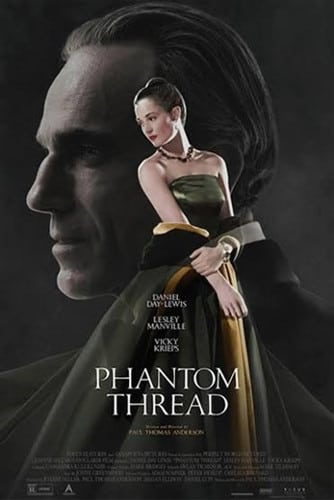 In 1950s post-war London, renowned dressmaker Reynolds Woodcock and his sister Cyril are at the center of British fashion, dressing royalty, movie stars, heiresses, socialites, debutants, and dames with the distinct style of The House of Woodcock. Reynolds is a confirmed bachelor with a meticulously controlled lifestyle – a lifestyle which is disrupted when the young, strong-willed Alma comes into his life….
Though many liked it, I personally found Paul Thomas Anderson's last feature Inherent Vice to be a bit of an aimless bore, but he's pretty much back on form with this strange, compulsive if slightly frustrating study of two people – or is that three – fighting for control of each other. Daniel Day Lewis, who says that he's retiring after doing this film [though he's said that before so let's hope that he goes back on his word again] adds another unforgettable character to his resume, a narcissist who likes to have total control over his life, yet is paradoxically partly controlled by his sister. Reynolds, somebody who – for example – has a hissy fit when he's presented with asparagus cooked in butter rather than oil – hates any change in his routine, and is often extremely dislikeable, yet there's an odd vulnerability about him that sometimes comes forth. Women tend not to last very long in his life, especially with the possessive Cyril being around. He's more keen on molding his female clients into his preferred image by way of his dressmaking skills. But then he meets his match in Alma, who becomes his muse and supposedly lover, though I wondered if sex was really much a part of their relationship at all. They seem to get their kicks more from Reynolds dressing Alma in various dresses. Anderson somehow makes the act of doing up [not undoing] a dress the most erotic scene in the movie.
Could Reynolds be melting, and does Alma, who puts up with all sorts of crap from both Reynolds and Cyril, have an agenda of her own? I suppose you could call this a love story, though Reynolds's love seems to be more for his work. Even when he says he needs Alma, it's not really an expression of love. And as for Alma, she does sometimes seem to love Reynolds and just goes about it an odd way, though I never really understood her despite Vicky Krieps's magnetic performance. Likewise, despite the brilliance of Day Lewis, I'm not sure that the screenplay totally nails down Reynolds and fails to really address his Freudian issues, though Anderson often likes ambiguity so it's probably intentional. In any case, there's a distance to the preceedings that sometimes made it hard for me to become totally engaged, and all Lesley Manville as Cyril has to do is to look stern in every scene, but the goings-ons remain rather hypnotic in an almost Stanley Kubrick-like way, the elegant shooting style and Anderson's own gorgeous cinematography augmented by Jonny Greedword's diverse, clever score. An often exquisite chamber work, though in the end just a little bit empty.
Rating: