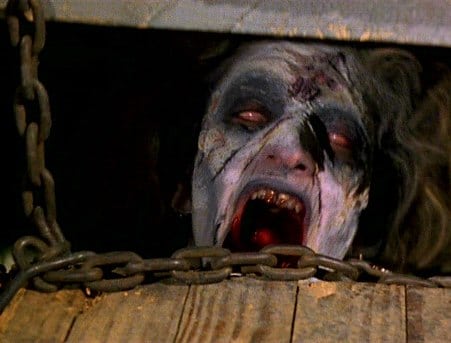 Supposedly Sam Raimi, Bruce Campbell, and their producing partner Robert Tapert were hoping to get five seasons out of the Starz television series Ash vs. Evil Dead, but now there is fear that the show might not continue on beyond its current season, its third. This is due to the viewing figures being very low – though some of that is the fault of Starz who made the monumentally stupid decision to show it at the same time as The Walking Dead. A petition has gone around to save the show, but at the moment cast and crew are stuck in what Campbell has described as "the horrible television limbo", waiting to hear if they're going to get to make a fourth season or not.
Recently, Campbell gave some hope that he and his collaborators might make another Evil Dead movie if Ash vs. Evil Dead is cancelled, but now he's seemingly dashed all hopes of this during an appearance at the Irish Film Institute. Asked if there might be another film, he responded:
"No, no, no. Because if they cancel it, I think Ash is done. I have lavender on my property. I'm going to smoke weed and hang out."
I can understand Campbell having had enough, though this is still disappointing news. I wouldn't be surprised if another film does materialise at some point without Campbell though. We never even had a sequel to the [surprisingly good] remake.