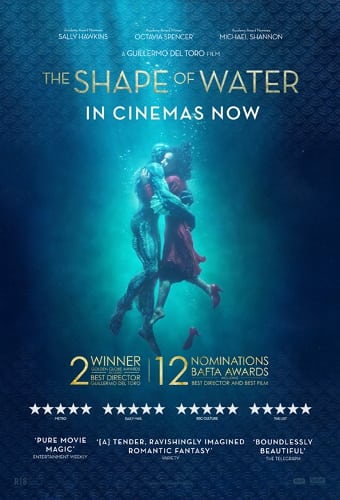 Even if you loved the film, you'll probably agree that The Shape Of Water isn't especially original. The Creature From The Black Lagoon and its two sequels were a major inspiration, but then Guillermo Del Toro was once linked to a remake of the 1954 classic anyway so that's no big deal. Starman and del Toro's Hellboy are probably influences too, but that's no big deal. However, there have recently been three separate occasions where accusations of plagiarism have been raised, and the third one has resulted in a law suit.
First, Jean-Pierre Jeunet claimed that one scene from the film was pinched from his work. As he said:
When Guillermo del Toro steals the scene of the couple sitting on the edge of the bed dancing with their feet, with the musical on telly in the background, it is so cut and pasted from Delicatessen that there's a moment when I say to myself that he lacks self-respect. It is obvious that he had Delicatessen in mind".
He also mentioned how Amelie clearly inspired the first part of the film.
"I'm not going to sue him for plagiarism, that's not my style. But Guillermo has enough talent not to be doing things like that. I emailed him to ask him why he was stealing my ideas. He replied that he did not steal from others, that it was Terry Gilliam who influenced all of us".
Then we had a short film released in 2015 called The Space Between Us in which a woman discovers a fish creature in a tank, falls in love with it, and attempts to set it free. Now that does sound incredibly similar. However, the original concept of The Shape of Water originated with author Daniel Kraus who shared with Guillermo del Toro back in 2011. Supposedly he originally came up with the idea back when he was 15. Del Toro reached out to the makers of the short film and any allegations were quickly dismissed – even though there are apparently some very interesting parallels concerning the art design.
But the third example seems to be turning into something far more serious. In 1969 a book came out which was turned into a play entitled Let Me Hear You Whisper, about a cleaning lady working in an aquatic research lab who strikes up a friendship with a dolphin who opens up to her and reveals that he is an intelligent thinking and feeling creature. She tries to rescue it after she learns it is to be dissected by the institute's scientists. The writer's son Paul Zindel said that:
 "We are shocked that a major studio could make a film so obviously derived from my late father's work without anyone recognising it and coming to us for the rights." 
A lawsuit has been filed with the US District Court by a lawyer known for pursuing lawsuits on behalf of writers and their estates. It popped up last month after all of the Oscar nominations were revealed, which seemed to be very calculated timing. As del Toro said:
"I really cannot stomach the timing of this accusation. It's pretty transparent what is happening here. To me, it's actually a relief to take something from the arena of opinion into the arena of fact and law."
The filmmaker will be heading to court with Fox Searchlight backing him up to settle these allegations once and for all, though at the end of the day this didn't seem to affect the Academy Awards.
So what do you think of all this? As I've said elsewhere and especially in my review of it, I thought that The Shape Of Water had a lot of problems as a film and didn't really deserve the praise it's getting. However, I can't really imagine del Toro blatantly pinching ideas when he always seems to have so many great ones of his own. His film is undoubtedly a patchwork of influences – but then so are many others.