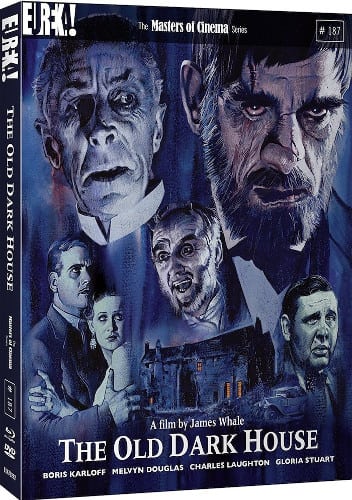 To celebrate the release of THE OLD DARK HOUSE on Dual Format from Eureka Entertainment, we've 3 copies to give away to our lucky readers in our competition!
A group of weary travellers, a spooky mansion, and a madman on the loose upstairs! Director James Whale's (Bride of Frankenstein, The Invisible Man) The Old Dark House is one of the best and most entertaining horror films of the 1930's. Dripping with atmosphere and packed to the brim with thrills, chills and gallows humour, it was considered lost for many years, but is now being presented from a stunning new 4K restoration.
Caught in a storm whilst journeying through a remote region of Wales, a group of travellers take refuge in a sinister mansion inhabited by the bizarre Femm family and their mute butler, Morgan (played by the iconic Boris Karloff, Frankenstein, The Mummy). Trying to make the best of a bad situation, the group settles in for the night, but the Femm family have a few skeletons in their closet, and one of them is on the loose…
THE OLD DARK HOUSE, James Whale's atmospheric and entertaining horror starring Boris Karloff and Melvyn Douglas, is available now as part of The Masters of Cinema Series in a definitive Dual Format (Blu-ray & DVD) edition and can be purchased here https://amzn.to/2qvtGcr
For your chance to win a copy, enter via Rafflecopter below.
T&C's
This promotion is open to UK residents only.
One entry per household
Competition closes 29th May 2018
There is no cash alternative to Prizes which are subject to availability, non-transferable, non-negotiable and non-refundable
Prizes may not be sold, offered for sale or used in connection with any other competition or promotion by the Prize winner
3 winners will win 1x The Old Dark House Dual Format
The Editor's decision is final and binding on the entrants. No correspondence will be entered into.