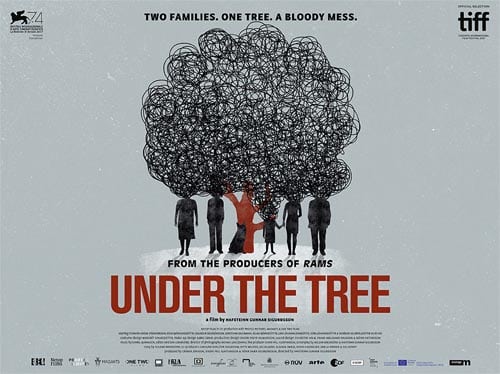 Eureka Entertainment are to release UNDER THE TREE, a dark suburban satire about a simmering feud between two neighbouring families that gets out way of hand, in selected UK cinemas nationwide from 10th August 2017.
This dark surburban satire tells the story of a man who is accused of adultery by his ex-fiancée and forced to move in with his parents. While he fights for custody of his four-year-old daughter, he is gradually sucked into a bitter dispute between his parents and their neighbours regarding an old and beautiful tree that casts a shadow on the neighbours' deck. As the dispute intensifies – property is damaged, pets mysteriously go missing, security cameras are being installed and there is a rumour that the neighbour was seen with a chainsaw. The cast is led by Steinthor Hroar Steinthorsson, Edda Björgvinsdóttir and Sigurdur Sigurjónsson (Rams).
The Icelandic-language film premiered at the Venice Film Festival and later screened at the Toronto International Film Festival as part of the Contemporary World Cinema section. Under the Tree was chosen by the Icelandic Film Academy as its contender for the 2018 Oscars in the foreign-language category.
Hafsteinn Gunnar Sigurdsson's previous credits include Paris Of the North and Either Way. The latter was remade for the US in English by David Gordon Green as Prince Avalanche. Under the Tree was written by Sigurdsson and Huldar Breidfjörd and produced by Grimar Jonsson. It was co-produced Iceland's Netop Films, Denmark's Profile Pictures and Poland's Madants, a trio who previously collaborated on Icelandic hit Rams.
Under the Tree is an apt film for the current political climate; a cautionary tale about what can happen when coexistence and compromise start to fail.
Under the Tree will be released in selected UK cinemas from 10 August 2018, followed by a late 2018 home video release as part of the Eureka's Montage Pictures range of world cinema titles.