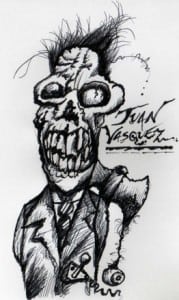 In a new feature I'll be going through some of the videogames, movies and TV shows that have been keeping my attention over the last couple of weeks. Well, attention span permitting anyway. So without further ado, here's what's been keeping my mind off the harshness of reality lately.
This has been available for almost a couple of weeks now, heralded with a fanfare of disappointment, State of Decay 2 has had its manky blood stained claws in me and has yet to let go. Playing as a pair of survivors, you must use yours and your associates abilities to survive the zombie apocalypse. Once you've set up sanctuary, you venture out with other characters, be it your friends or the cpu, to try and help out other survivors  and find supplies that will come in useful for your base. It's got a fairly decent sized sandbox world to play in, filled with varying types of undead nasties waiting to feast on your delicious flesh, but its not without its issues. The game is full of glitches. One time none of the textures loaded properly, so most of the characters models were a rather moist looking shade of black. One time my character got stuck in a wall whilst ascending a ladder, and the lag was so bad, that I somehow ended up launching an ambulance my friend was driving, spinning into the air, as if it was in a tornado. It's safe to say that State of Decay 2 is not for the impatient. While the majority of it works OK, some of the bugs may put a real dampener on it for some. The last two Xbox One exclusives have both been controversial, and unfortunately, it's for all the wrong reasons. A big update has been released, bigger than the game's original files size. It has fixed some things, but it hasn't stopped a lot of stuttering in the gameplay, and cars have gone stratospheric again… But you can now flap car doors at will. If you've got Game Pass, give it a whirl.
I made a couple of cinema trips over the last couple of weeks, beginning with Solo: A Star Wars Story. I was apprehensive approaching this one, as I've never really been a fan of Ron Howard films, and given that he stepped in to take over from Lord and Miller, meant this could've been a bit of mess. Fortunately it's stuck with the trend of Star Wars films only getting better. This was a fantastic space western, with some great characters and some spectacular set pieces. Howard really pulled this one out of the bag, leaving us with an exciting action sci-fi, that left me breathless by the end with its swift pace and I'm excited to see where some of the plot strands go.
***SPOILER***
A character has a cameo towards the end, which hints at another spin off film for someone who has mainly been seen antagonising the Clone Wars and Rebels animated TV shows, and if that's the case, colour me excited!
***END OF SPOILER***
I also saw Breaking In, a home invasion thriller starring Gabrielle Union. The trailers made it out to be more of a one woman army action film, but it turned out to be a more cat and mouse thriller than anything else. There's a couple of decent fights though, but other than that, it's just not quite as exciting as the trailers would have you believe. I know right, since when has a trailer ever mislead an audience?
My TV has been dominated by one thing recently, and that's the return of Johnny Lawrence and Daniel Larusso, in the much anticipated Cobra Kai. Taking place 34 years after The Karate Kid, we see what the adult Daniel and Johnny are up to these days. Larusso seems to be living the life as the owner of a successful car dealership, but Johnny not so much. Coasting along in life, haunted by his past failures, which of course includes having his face kicked in at the All-Valley Under 18 Karate Championships. When an incident results in Johnny and Daniel crossing paths once more, it motivates the two to get back in their gi's and sweat bands, with the Cobra Kai dojo opening once again.
The best thing about the show is the dialogue, specifically Johnny. He's firmly stuck in 1984, with such classic insults as 'wangless dork' and 'nerd', as well having controversial opinions that weren't really considered controversial 30 years ago. The new generation of Cobras try to keep him in check, like an out of touch grandparent. As you'd expect, there's some cracking montages to great 80's inspired music, and it is genuinely hilarious in a lot of places. It'll have you constantly switching your allegiance between Larusso and Lawrence, as they're basically dumbass dads trying to do the right thing but going the wrong way about it. YouTube seem to have a real gem on their hands with this and it's worth paying for the episodes (YouTube Red isn't yet available in the UK). And with a second season being announced, it's exciting to see where this is going. Cobra Kai is a surprisingly brilliant follow up and surpasses the movies in every way. It's this years Twin Peaks The Return. Not only is it good, it's way better than anyone could have expected.
NEXT TIME: Here comes a new challenger!