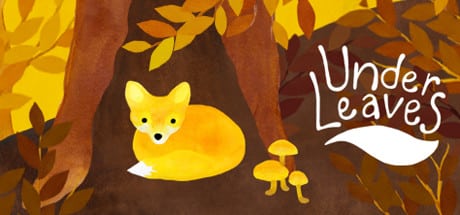 UNDER LEAVES
Published and Developed by Circus Atos
Available on Steam for Windows, Mac and Linux
Every now and then, I love to sit back and take a break from the shoot-em-ups, hack-n-slash and GTA style videogames and unwind with a bit of simplicity. This is where something like videogame UNDER LEAVES excels. It manages to blend my love of nature and animals with the hidden object game mechanic. The result is a relaxing yet challenging experience that will often leave you with your nose pressed up against the screen with your eyes squinting and inspecting every pixel on the screen, desperately on the lookout for that last leaf or swirly stone needed to be unearthed before being allowed to progress to the next level.
Like many games, UNDER LEAVES starts out fairly easy and almost feels like it's holding your hand. Soon though the difficulty increases and what used to be the objects sticking out like a sore thumb now blend conveniently in with the background, making the game that much harder. If you're like me and eventually give in after squinting and cycling through the screens X amount of times, there's a hint button which will highlight one of your missing objects. You don't get the hint handed on a plate though. You must jump through the hoop first by completing a sliding tile puzzle. Whilst some are easy, others can be as awkward as finding the hidden object and it won't be the first time I've abandoned the game altogether in a huff. Some way to relax, huh?
Joking aside, games like UNDER LEAVES are pure joy to play, mainly for the fact they're accessible for all and don't require too much gaming skill – just a keen, alert mind and a ton of patience. Coupled with the tranquil scenes of nature, each introduced by a different animal with the hidden object often depicting something tied to the scene, UNDER LEAVES is a simple work of point-and-click genius.
A vibrant, wonderful game that can be enjoyed by all.
Rating:
Steam achievements and trading cards can be collected for Under Leaves.
Can you spot the swirl?