With the possible exception of the "meh" first outing for Annabelle, I've thoroughly enjoyed all the films in the Conjuring franchise so far, and this looks set to continue with The Nun even though I have the feeling that its trailer gave away the film's greatest scare. Anyway, some new images have been released to whet your appetite, some of which reveal a film that looks like it's going to be soaked in gorgeous Gothic atmosphere.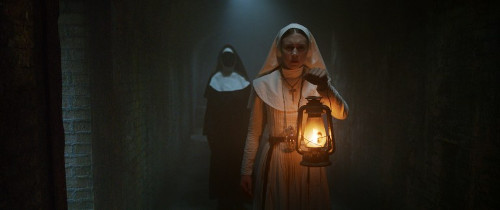 A priest with a haunted past and a novitiate on the threshold of her final vows are sent by the Vatican to investigate the death of a young nun in Romania and confront a malevolent force in the form of a demonic nun.
Corin Hardy directs, Gary Dauberman writes from a story by James Wan, and Bonnie Aarons, Demian Bichir, Taissa Farmiga, Jonas Bloquet and Charlotte Hope star.
It's out on September 7, 2018.