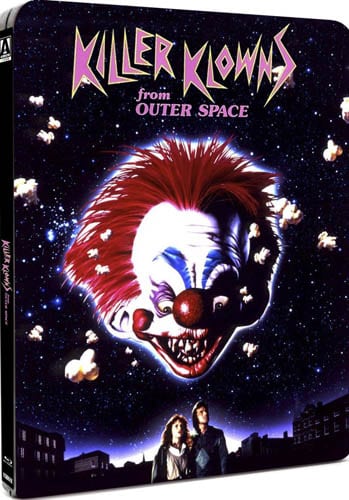 1988's Killer Klowns From Outer Space has become a real cult favourite of many, and I will never forget my first viewing of it on video around a friend's house. While the film is very comedic, those darn clowns really freaked me out, but even more scary was when I walked home to my house, took a short cut across a field, and what did I see – a circus tent that had just been set up! I retraced my steps and took the long route home…..
Anyway, 'Bloody Disgusting' reports that, at the opening weekend of 'Halloween Horror Nights' at Universal Orlando this past Friday night, not only was the movie shown and a Klowns-themed "scare zone" set up loaded with various different Klowns and movie props, but that Klown creators the Chiodo Brothers may be finally – after many years of trying – may be finally be able to get that sequel into production. We can thank a little Stephen King adaptation that just a few people saw for that.
"I used to say don't hold your breath, but things have been happening right now… I would say you can hold your breath now. The success of IT recently has kind of educated some of the people in the industry that… clowns are cool, clowns are scary… they're looking at horror properties now more seriously than ever. I can say, something will be happening with Killer Klowns from Outer Space in the near future. Absolutely."
Bring it on! But please don't go down the CGI route for the Klowns…..