Death Kiss (2018)
Directed by: Rene Perez
Written by: Rene Perez
Starring: Daniel Baldwin, Eva Hamilton, Richard Tyson, Robert Bronzi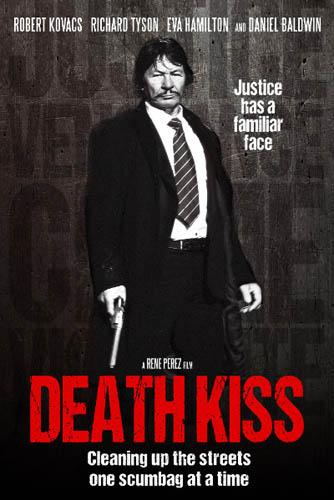 DEATH KISS (2018)
Written and Directed by Rene Perez
Scumbags have been ruling the streets of America for far too long. Fortunately, there's a familiar face to dish out some brutal justice in Rene Perez's vigilante flick, DEATH KISS.
When this movie first popped up on my radar, I couldn't believe my eyes. Its star, Robert Kovacs, or Robert Bronzi as he is known, is an Hungarian native and his resemblance to Western star Charles Bronson is absolutely frightening. I mean, if you said Robert was Charles Bronson's lovechild, I'd believe you – his appearance is that similar. So to see Mr Kovacs take to the screen in a similar role to Bronson himself, in what is essentially a homage to Michael Winner's vigilante franchise Death Wish, isn't just nostalgic – it's fucking amazing.
Whereas Charles Bronson may have been a bit coy about killing criminals initially in the Death Wish movies, Kovacs is upfront and means business from the get-go, taking out a child rapist in the opening scene by shooting him in the stomach, beautifully highlighted with squib splatter aplenty (oh yes, there is blood and plenty of it!). Seemingly walking the streets solely to to hunt down the criminals in town, not too dissimilar to Bronson's role as Paul Kersey, Kovacs cuts a chilling figure who means business. Blasting scumbags, from thieves to drug dealers, with his gun and in some cases dealing out a bit of justice with his fists, Kovacs cuts a bad ass figure. However, he's not just a vigilante killing machine. We see a softer side to him as he posts money to a single mum and her disabled daughter. His connection to them begins as a mystery but a revelation by the mother in the latter third of the movie quickly reveals all we need to know about why Kovacs' stranger helps the two out.
When watching a movie like Death Kiss, you're probably watching it for at least one of two reasons: a) you like Charles Bronson or b) you enjoyed Death Wish. I fall in the camp of both A and B and am pleased to say that Death Kiss is exactly what I was hoping for. It has the violence, the Bronson-esque supercool presence and a grizzly villain in the shape of Richard Tyson – you know, the guy who played Cullen Crisp (Dominic's wicked father) in Kindergarten Cop. As drug dealer Tyrell, Tyson is a ruthless S.O.B who's criminal undertakings seem to run in the family with his own son being sent to jail. His grizzly biker look reminded me a lot of X-Pac from WWF (SUCK IT!) and though his appearances are few, his better quality performance sets him apart from others in the movie. This can also be said for Daniel Baldwin, who stars as raging radio DJ Dan Forthright, who highlights to his listeners America's atrocities tat aren't seemingly being addressed by neither politicians or police, such as child sex trafficking, rapists and murderers who seem to get off scott free from the law. The points he makes are valid and he asks the question that if the law isn't prepared to stand up for us then maybe someone else should take it into their own hands. Seems like Kovacs' mysterious stranger is more than up for the job.
Death Kiss is a vision of bloody beauty and I've got to thank Rene Perez for bringing it to the screen. Not only has he made a solid homage in terms of the 'vigilante dealing cold, hard justice' storyline, but his attention to detail is bang on the money. The film even looks older with natural imperfections and a cold, blueish hue, making it feel as though the film was shot at least 25 years ago. Electric guitar riffs compliment the gritty onscreen violence whilst Kovacs' silent, brooding demeanour transports the viewer into an alternate reality where Bronson's Paul Kersey lives on.
I sincerely hope this is the start of a stream of Bronson-esque B-movies with Kovacs taking the lead and making a name for himself in film rather than just being known as a damn good lookalike. His rugged yet familiar look coupled with his combat and horseriding skills will no doubt see him as a sought-after B-movie star. Whatever the roles, we want to see more!
Rating: