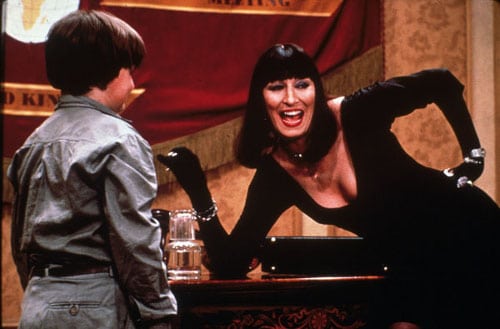 The horror genre is one of the world's favourites as many audiences all over the world, love nothing more than being made to jump in their seats. There have been some memorable scary movies over the years, with lots of them going on to be known as classics. So that it goes without saying that we have all witnessed some memorable performances in these films from actresses too, many of whom made the movies what they are today.
Anjelica Huston
We kick things off with Anjelica Huston, whose portrayal of the Grand High Witch in the movie The Witches is something of a masterpiece. It's more disturbing than an average family film and it isn't the only scary movie Huston has starred in either. You'll also find her in films such as The Addams Family and The Cleanse too, which makes her one of the best mainstream horror actresses around. There are some fans of the movie who also love to play Which Witch, a mobile game created by mFortune; which would help to explain the huge success the game continues to experience.
Danielle Harris
There's no way we could leave Danielle Harris out of our list of favourites as she is of course known as the "scream queen" after starring in multiple horror movies. The 41-year-old has starred in the superb Halloween franchise on four occasions, as well as in movies such as Don't Tell Mom the Babysitter's Dead, Left for Dead, Blood Night: The Legend of Mary Hatchet and Cyrus: Mind of a Serial Killer. She's one of the finest actresses around, especially when it comes to starring in horror flicks.
Ashley Laurence
Ashley Laurence made her film debut in the horror genre, by playing the role of Kirsty Cotton in Hellraiser back in 1987. This really saw her become known as a fantastic actress when it came to horror, and like Danielle Harris, she was also known as a "scream queen." She's best known for her performances in the Hellraiser film series, where she has appeared as the lead character multiple times. She's also starred in other scary flicks such as Mikey and The Lurking Fear too.
Erin Marie Hogan
Erin Marie Hogan, like the others in this list, is well known for her roles in horror films. In many ways, Hogan's career really kicked off when she secured her first leading role in the hit movie Paranormal Entity. She's also played other notable film roles too from the horror genre such as Hold Your Breath,2 Jennifer and The Theatre Bizarre, which confirms her status as one of our favourite actresses to appear in horror films.
Jennifer Love Hewitt
Jennifer Love Hewitt is one of the most popular actresses of the modern era. She's starred in hit movies as well as TV shows, but she makes it into our list as her performances in I Know What You Did Last Summer and I Still Know What You Did Last Summer, both great horror flicks, are what really helped to make her who she is today. Taking on the role of Julie James, Hewitt excelled, turning in performances which saw her win multiple awards such as best female newcomer.