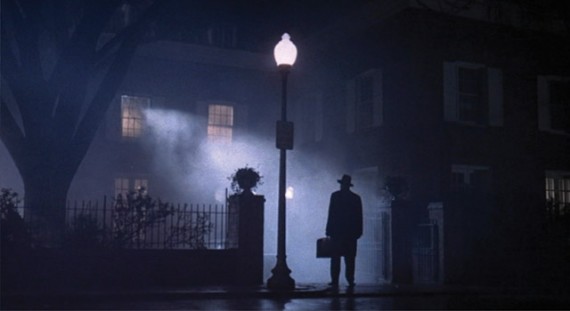 The opening night of the Sundance Film Festival saw a screening of Alexandre O. Philippe's documentary Memory: The Origins of Alien, which is, to quote IMDB:
The untold origin story behind Ridley Scott's Alien – rooted in Greek and Egyptian mythologies, underground comics, the art of Francis Bacon, and the dark visions of Dan O'Bannon and H.R. Giger. A contemplation on the symbiotic collaborative process of movie-making, the power of myth, and our collective unconscious.
Just before the screening, Phillipe, whose 18/52 dissected Psycho's shower scene,  announced that he had already shot a documentary about The Exorcist.
"So, on The Exorcist, I'm working with William Friedkin. I've been working with him now for a year, a little more than a year actually. It's very different. This is just going to be him and it's basically about his very personal process. The approach was to do a film on The Exorcist using the Hitchcock/Truffaut model of interviews. I said to him, 'I just want to sit with you for days and crack open The Exorcist and get into your process as a filmmaker. We've had four and a half days of interviews. As you can imagine, we went pretty much in depth."
"There's no talk at all about special effects, about the cinematic tricks. Instead we talked about art. We talked about music, about opera, about movies from Citizen Kane to Ordet by Dreyer, to 2001, The Third Man. It's a very intimate chamber film about William Friedkin as an artist and his process in the making of The Exorcist."
"I think we all know him as this maverick filmmaker. Obviously, he was that. The guy was shooting guns on the set, slapping his actors across the face and almost broke Ellen Burstyn's back. There's a lot of drama and a lot of outrageous things about the making of that film. There's a lot of myth also. I don't think many people know the quiet, reserved Friedkin who thinks very much in nuance, who is obsessed with art, who will go to Chicago and spend hours in front of the Monet painting Morning on the Seine near Giverny, who goes to the Kyoto Zen Gardens and cries because he finds it so beautiful. That's what this project is going to be about. He's very excited about it."
Philippe is now in the process of cutting his four and a half days of interviews down to a manageable length, though he sent a bit to Friedkin:
"I sent him an 11-minute short version of it. He sent me an e-mail. He's very, very touched by it I think. I told him I really want to do something that's very special."
It sounds like this may appeal more to Friedkin fans in general rather than lovers of one of the greatest horror movies ever, but then there's been so much documenting of the making of The Exorcist that Philippe certainly had his work cut out for him. I'm still quite intrigued, and hopefully when it's released I'll be able to offer my humble opinion.