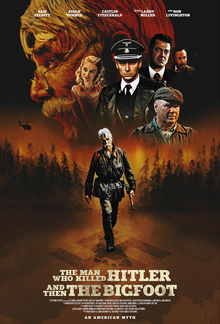 Among numerous alternative history flicks, covering everything from a big blue superman winning the Vietnam war to slavery still existing, The Man Who Killed Hitler and Then the Bigfoot still stands out as a charming oddity. Sam Elliot stars as a mythic soldier who kills the past's biggest monster, and then comes out of retirement to fight one of fiction's. The bizarre movie, which is both everything and nothing that the title promises, represents a career best for the Hollywood veteran and an excellent calling-card for debut writer/director Robert D. Krzykowski. It also stars Brit-TV favourite Aidan Turner, Ron Livingston, Caitlin FitzGerald, Larry Miller and Ellar Coltrane. Now, with movie set to hit American cinema and VOD next month, RLJE Films have dropped an action-packed trailer.
The Man Who Killed Hitler and Then The Bigfoot premiered in July 2018 at the Fantasia Film Festival. I had the pleasure of watching it two months later at Fright Fest, where it was the stand out among a roster that included Climax, Upgrade and Terrified. It went on to top my list for the top 10 films of the year – so I mean it when I say I'm a big fan. I also reckon it's the kind of movie our readers are going to bloody well love, so I can't recommend it enough. Yet while I liked the trailer, it's also a touch misleading in its depiction of the piece as being a kind of reluctant Rambo romp. Sure, that's definitely an element of it. Though what's particularly impressive is the way it expertly smuggles such a human story about death and regret into a creature feature B-movie template. As such, those looking for an action packed romp, about a gruff and chiseled former hero going all out won't necessarily be disappointed. But they might weep more than the cheer. Still, this is being billed as the first trailer, so let's see if the second shows the heart as much as the hunt.
The Man Who Killed Hitler and Then the Bigfoot was reviewed here, and made my best of 2018 list here. You can also read my interview with writer/ director Robert D. Krzykowski here. It gets an American release on February 8th. An update about the UK release should follow soon.