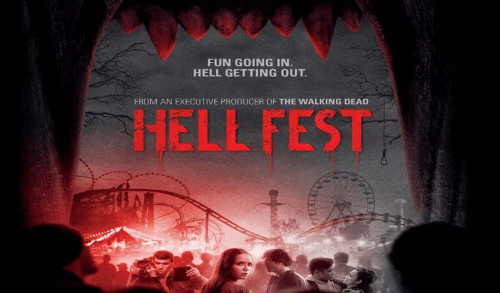 For me, Hell Fest was a pretty decent slasher that I enjoyed much more than Halloween. Making the most of its horror amusement park setting, visually impressive and suspenseful, the film had a killer who uses the cover of performers and scares to commit real murders. Tony Todd voiced the Hell Fest rides and appeared on camera in one scene as the park's owner. In an interview with 'Bloody Disgusting', he talked of what the plan was with his character for the sequel when asked if he'd have a larger role:
"That was the intent when we went in. I know that's what Gregory Plotkin, the director wants to do. If we at least get number two, you get to see more of my character and understand that he owns the park and the consequences of that. Gregory and I talked directly about who he was. It's his attraction. Ideally, every year, it moves to a new location. That was the premise that we worked with. And the owner of Hell Fest is unaware, however, that he has a real killer on the loose in his park. He thought he had a tight ship so that could set up all kinds of elements to play too."
However, Hell Fest was a box office disappointment, so the sequel may not happen.
"It went away too fast for me but I hope that with the release of the home video, that it finds a greater audience this time around, because it's a really good film. 2018 was a great year for horror. I'm proud to be part of a film that was part of that package."
"We may have missed the boat in getting out even further. I'm a big fan of advertising during sports events. I'm a huge sports fan and if we had done that, we could have gotten even more people. But now, it's out, it will be in all the big box store, Wal Mart, Best Buy, Amazon, available now on iTunes. I think there's no excuse and I think it'll become enduring, if not a classic, at least in name value. Maybe we'll get a second chance at it?"
Let's hope that Hell Fest does better on home viewing. It's currently available in North America, but we're still waiting for a UK release. In the meantime, you can read my review here.