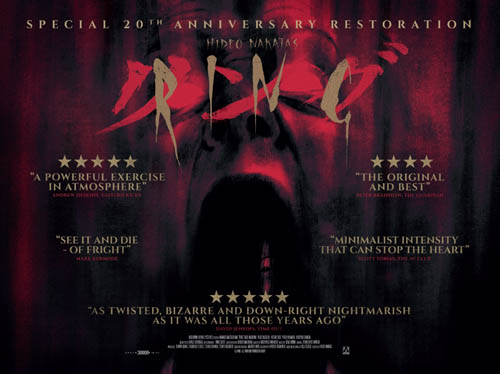 To celebrate the newly restored cinematic return of Hideo Nakata's classic RING, which will release in cinemas across the UK from the 1st March, we have a Ring T-shirt up for grabs courtesy of Arrow Video!
Before the sequels, remakes and crossovers, audiences were first introduced to a future horror icon amidst an era of ultra-violent slashers from the '80s and '90s, where its more sombre march towards terror taught audiences and filmmakers alike that the dread of the unknown can be more frightening than the horrors we know.
Ring, initially released to worldwide acclaim, sparking a global genre renaissance and a western love-affair with "J-Horror" that endures to this day. Now, the twisted visage of Sadako is one of horror's most recognisable icons, alongside the likes of Freddy Krueger and Jason Voorhees. The hushed gossiping of the tape's ghastly legend resonated with those who spent their playground years sharing stories of Bloody Mary and Candy Man, offering us an insight into Japan's y?rei-driven folklore, and a new story to share!
There's no better way to relive this influential horror, or experience it for the first time, with this big screen celebration! Persuading someone else to watch is the only way to escape Sadako's curse, so why not enjoy a horror-filled night out in good company?
Over the years, there have been many reimaginations and imitators, but none can compare to Hideo Nakata's original, slow-burning nightmare.
The newly restored version of RING releases in UK cinemas from 1st March. Please go to ringfilm.co.uk/ for booking details.
For your chance to win, enter below:
The competition will close at 11.59pm GMT on Monday 11th March 2019 and one correct entry will be chosen at random.
T&C's
This promotion is open to UK residents only.
Entrants must be aged 15 years or over
One entry per household
No alternative prize is available
One winner will win 1x Ring t-shirt
Preferred size not guaranteed
The Editor's decision is final and binding on the entrants. No correspondence will be entered into.