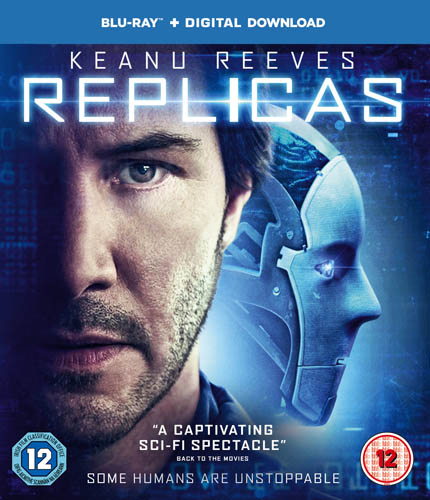 To celebrate the release of REPLICAS, on digital now and on DVD and Blu-Ray in the UK on 29th April 2019, we've a copy to give away on Blu-Ray, courtesy of Lionsgate!
At a medical research facility in Puerto Rico, daring neuroscientist Will Foster (Keanu Reeves) is on the verge of successfully transferring human consciousness into a robot when his family is tragically killed in a car crash. Not wanting to say goodbye to his wife (Alice Eve) and three children, Will recruits his colleague Ed (Thomas Middleditch) on an audacious mission to preserve their minds and transfer them into secretly-grown clone bodies…
Soon discovering that playing God has its downsides, Will battles against the clock and the physical laws of science themselves to resurrect his loving family. When success appears to be within reach, Will finds himself pitted against a sinister government-controlled laboratory and a shady police task force who will stop at nothing to find the key to the incredible scientific breakthrough…
Offering a fresh take on the Frankenstein myth, Replicas is a taut and action-packed sci-fi thriller about family, loss and the dangerous questions surrounding emerging scientific technologies.
Starring Keanu Reeves (The John Wick Franchise, The Matrix), Alice Eve (Star Trek: Into Darkness), Thomas Middleditch (Silicon Valley) and John Ortiz (Kong: Skull Island). Directed by Jeffery Nachmanoff (The Day After Tomorrow) and produced by Stephen Hamel (Passengers), Lorenzo di Bonaventura (Constantine, Transformers), Keanu Reeves, Luis Riefkohl and Mark Gao.
For your chance to win REPLICAS on Blu-Ray, enter the competition below.
The competition will close at 11.59pm GMT on Wednesday 8th May 2019 and one correct entry will be chosen at random.
T&C's
This promotion is open to UK residents only.
Entrants must be aged 12 years or over
One entry per household
No alternative prize is available
One winners will win 1x Replicas Blu-Ray
The Editor's decision is final and binding on the entrants. No correspondence will be entered into.