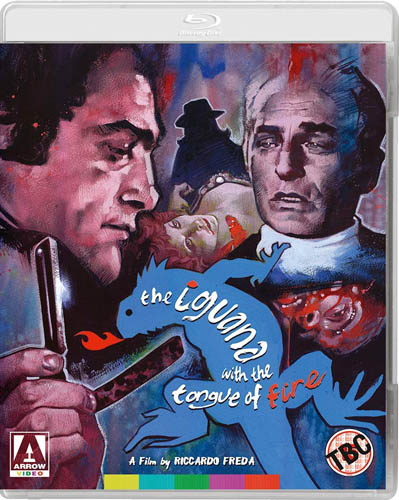 To celebrate the release of The Iguana with the Tongue of Fire – available on Blu-ray April 8th from Arrow Video – we're giving away a copy.
One of several 'animal-in-the-title' cash-ins released in the wake of Dario Argento's box-office smash The Bird with the Crystal Plumage, The Iguana with the Tongue of Fire is a gloriously excessive giallo that boasts a rogues gallery of perverse characters; violent, fetishized murders, and one of the genre's most nonsensical, red-herring laden plots (which sees almost every incidental character hinted at potentially being the killer).
Benefiting from a sumptuous score by Stelvio Cipriani (Nightmare City, Death Walks on High Heels) and exuberant supporting performances from Valentina Cortese (The Possessed, Thieves' Highway) and Dagmar Lassander (The Frightened Woman, The Black Cat), The Iguana with the Tongue of Fire is a luridly over-the-top latter-day entry in the filmography of acclaimed director Riccardo Freda (Caltiki – The Immortal Monster, Murder Obsession). An archetypal giallo from the genre's heyday, Freda's film is presented here in a stunning new restoration with a host of newly produced extras.
For your chance to win THE IGUANA WITH THE TONGUE OF FIRE on Blu-Ray, enter the competition below.
The competition will close at 11.59pm GMT on Friday 26th April 2019 and one correct entry will be chosen at random.
T&C's
This promotion is open to UK residents only.
Entrants must be aged 18 years or over
One entry per household
No alternative prize is available
One winners will win 1x The Iguana with the Tongue of Fire Blu-Ray
The Editor's decision is final and binding on the entrants. No correspondence will be entered into.