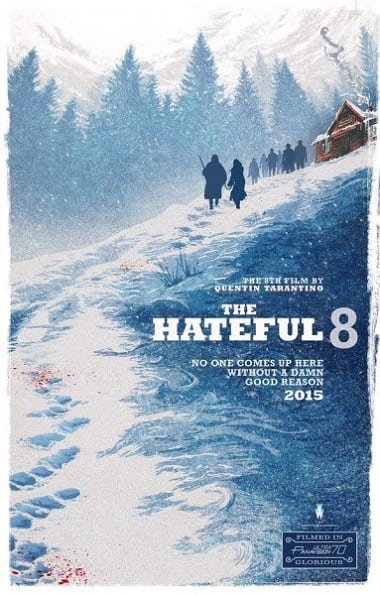 Earlier this month, Quentin Tarantino's terrific The Hateful Eight was made available to watch on Netflix in two versions: the theatrical cut, and an extended version that's presented as a four-episode "miniseries." Initially, many thought Netflix had just decided to chop up the longer "roadshow" version of the film that played in a handful of theaters back in 2015 into episodes to entice more viewers, but as it turns out, this "miniseries" cut of The Hateful Eight was created by Tarantino himself and added even more footage:
Said Tarantino to '/Film':
"So Netflix came to us and said, 'Hey, look, if you'd be interested…If there's even more footage, if you'd be interested in putting it together and in a way that we could show it as three or four episodes, depending on how much extra footage you have, we'd be willing to do that.' And I thought, wow, that's really intriguing. I mean, the movie exists as a movie, but if I were to use all the footage we shot, and see if I could put it together in episode form, I was game to give that a shot, give that a try."
"And so about a year after it's released, maybe a little less, me and my editor, Fred Raskin, we got together and then we worked real hard. We edited the film down into 50-minute bits, and we very easily got four episodes out of it. We didn't re-edit the whole thing from scratch, but we did a whole lot of re-editing, and it plays differently. Some sequences are more similar than others compared to the film, but it has a different feeling. It has a different feeling that I actually really like a lot. And there was a literary aspect to the film anyway, so it definitely has this 'chapters unfolding' quality."
Reaction to this version seems to be mixed, with some liking the 'chapter' format, and some not, while there seems to be a debate on how much extra footage there actually is, with the opening/end credits tacked on to each 'episode'.
Tarantino is obviously in a 'tinkering' mood, because he's also put together a longer version of one of his other movies.
"I've actually cut a director's cut of Django. That's about like three hours and 15 minutes, or three hours and 20 minutes, something like that. That's one I wouldn't do as a miniseries, because it would just be better [as a movie]. I thought about that idea, but that would just work better as one movie. Just a longer one as far as I was concerned. So I've actually done that. We're just kind of waiting some time after Once Upon A Time in Hollywood, and we'll release that eventually".
Sadly other reports have said that he still hasn't put the two parts of Kill Bill together like he's being saying he would for a very long time now. Come on Quentin, as you're in a 're-cutting' mood…..