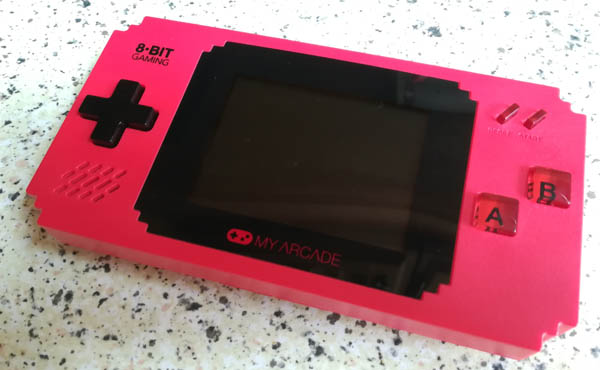 If you love gaming then you may often be in situations where you have time to play, like during your daily commute on public transport or on your dinner hour, but don't exactly want to carry an expensive handheld console with you. The Pixel Player from My Arcade is a solution to this, offering a variety of gaming options in one handheld console.
The red horizontal handheld console is reminiscent of a Gameboy Advance with a directional pad on the left side of the screen and two buttons on the right. On the top side of the player, there's an AV out and Aux out port in case you want to hook it up a proper screen or a pair of headphones; volume buttons, a micro USB port which you can use to power the player using a cable (sold separately) and an on/off switch that also contains a backlit mode for those nights sat up in bed gaming when you should be catching some Zzz before morning arrives. On the back of the device are two battery compartments for two pairs of AAA batteries (4 in total – sold separately) which can be used to power the game player instead of the micro USB cable, making it a truly portable experience.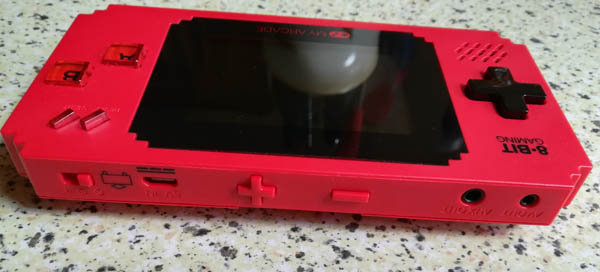 When you first see the words "300 games", it's easy to get excited but my advice is don't. Out of the 300 titles are games that are sequels and variations on the same games and outside of Data East's 8 games, the good games are few and far between. Some you haven't a clue on what you're meant to do and thus they are difficult to play as the game doesn't go anyway. Some others are just simply so easy and basic that it feels like they've been thrown together in 5 minutes just so they could be added to this handheld console to make up the 300 number. Some are card games and familiar board games like checkers, sports games such as Pool and swimming games, platform games, shoot-em-up type and racing games. There's a variety on offer but some are so frustrating to play compared to Game Boy games that you may lose your patience with them. The better games are without a doubt the Data East titles with Bad Dudes, Burger Time and Karate Champ being the highlights.
Navigating through 300 games isn't too hard when they're presented in lists of 10 and a simple nudge left or right can take you to the previous or next list meaning you don't have to scroll one by one to get to the next set of 10. However, moving down the list can sometimes be easier said than done, especially when the right directional button seems to either stick or depress when I press downwards which then forces me onto the next set of 10 games when all I wanted to do was select the next one down. This can be really annoying and I can't for sure say it's just my device or not. When I play games though, this doesn't seem to happen so it may just be a sensitivity on the menu section.
After starting the console up with the switch and finding a game you want to play, you simply press the Start button whilst your chosen title is highlighted. During gameplay, the Restart button will log you out of the current game and take you back to the menu screen. It's simple to use and with only two buttons, A and B, other than the directional pad, the in-game controls are easy to control too, that is if you know what the object of the game is.
As a gaming system, I'd say this is more suited to children as something to play on to keep them quiet that isn't going to break the bank, with the Pixel Player available for around £20. This may appeal to retro game fans who enjoy the 8 bit play, complete with full colour graphics and audio, but I found myself more frustrated with the choice on offer rather than enthralled. As a result, I feel it would serve only as a mild distraction during some downtime rather than a handheld console you can't wait to sink time into.
My Arcade Pixel Player is simple, affordable fun but lacks the oomph that hardcore gamers may desire.
Rating: