Dolls (2019)
Directed by: Cuyle Carvin
Written by: Jeff Miller, Justin Hawkins
Starring: Dee Wallace, Elise Muller, Thomas Downey, Trinity Simpson

DOLLS
Directed by Cuyle Carvin
The summer of deadly dolls continues with this little ditty: a DIY horror, with a fraction of the budget of Child's Play or Annabelle Comes Home. Evoking the name of Stuart Gordon's classic, this marks the debut feature film of B-Movie and TV actor Cuyle Carvin. And it will likely fail to make much of an impression in what's starting to feel like a strangely saturated market.
For most of Dolls' rather slight running time, we have a family drama about a hard-drinking kid's author Robert (Downey) and his unruly daughter (Simpson) staying in the old family home. Robert's mum has recently died, and as his life has begun to fall apart around him he finds himself inheriting this house complete with the three unnerving figurines. As he contends with writer's block, and a difficult ex-wife (Muller), he turns to them as the subject of his next book: a sinister tale that just flows out of him. As he writes it, the dolls show up in places they shouldn't, stand still, and then disappear only to do the same a few scenes later. A paranoid neighbour, played by genre icon Dee Wallace, acts as their hype-person by telling Robert things have happened which are far more terrifying than what we've seen so far. But are these frightening old models really alive?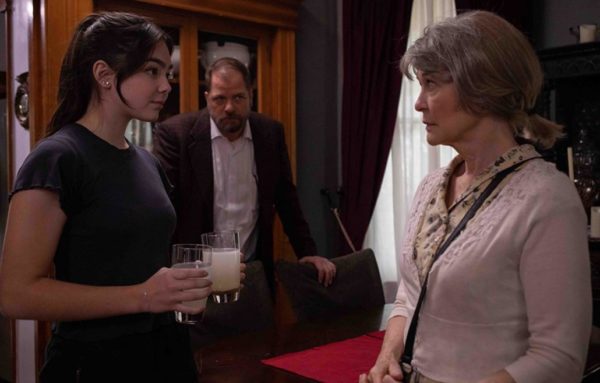 Whilst supernatural films sometimes benefit from a little ambiguity, about whether their ghosts and ghouls are really there or manifestations of the protagonists' worries, this isn't one of them. At points, we're encouraged to question if one, or both, Robert and Sammy are losing their minds – since he's an alcoholic, and she's on medication, they aren't necessarily reliable. Yet besides from the odd dream sequence, the movie isn't shot enough as a perspective piece for this to be an intriguing possibility. Carvin keeps us a distance from his characters, and the dolls regularly move when each of them is alone in the house. As such, there's little mystery to what's going on. This isn't necessarily a problem provided there's a palatable sense of tension – after all, the Annabelle audience knows what they're getting themselves in for even when the characters don't. Yet across the length of a movie, it ought to be escalated. Here it isn't, and the repetitive anti-climax scenes coupled with by the number drama that go way into the third act soon become tiresome. Yes, the dolls look a bit creepy, but after the third or fourth scene of them teleporting that's not enough.
I could excuse the pacing if the deadly dolls were better integrated into the themes the first hour spends so long on, ala Andy welcoming Chucky as a surrogate father. But unless I'm missing something, the combination of longwinded family drama and the dolls is fairly arbitrary. Maybe it could have been a subversion of childhood or something about the artificial nature of their family unit. I don't know, and am not really fussed – but it needs the extra something to make it all connect. Without this, the film would watch much the same way if they were being haunted by a bog-standard ghost, a deceased ex-owner or even an enchanted sandwich some sort. There's an attempt to characterise the dolls, by linking them to demonic possession (a bad taste sequence that draws parallels with dissociative identity disorder). Yet this comes very late in the film, and the mental health parallels haven't been written with anything like the sensitivity or depth required to make for an effective subtext.
Still, given the first 70 minutes or so I was pleasantly surprised by the last section. With about fifteen minutes to go, Carvin stops withholding the dolls and this actually makes for some pretty good horror sequences. True, the film is missing a set-piece or two – but the intensity of the last act shows a real potential that's regrettably missing from most of the running time. As the dolls start to move, rather than standing in unwelcome places, I briefly felt on edge. It's cunningly staged and, despite the small stakes, there's a sense of peril. I'd even go as far as saying this 10-minute extract could make for a reasonable short by itself. Sadly, in the context of a full film, it's too little too late. Maybe in a future version of Scream, the knockoff Randy character will ask to see "the killer doll movie with E.T.'s mom in it". But outside that very unlikely, and highly specific, scenario I can't see this one being talked about even weeks from now. A mixture of wrong film for the wrong time.
Rating: