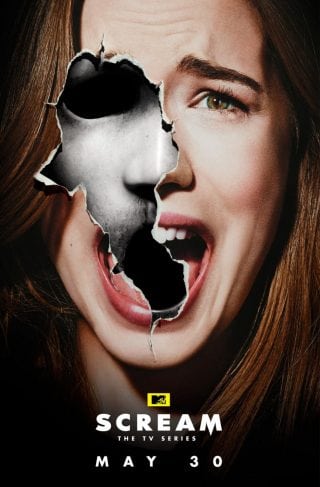 Season 3 of the Scream TV series has been delayed for ages, but it's finally premiering on VH1 next week, with all six hour-long episodes being shown from Monday July 8th through to Wednesday July 10th – and it seems that they've finally been allowed to use the iconic Scream mask at last. It'll be a while before UK viewers will be able to see it [probably on Netflix], but we have two clips for you to view, the first one riffing on the first film's terrifying opening, only that this time around it's the Halloween remake that's being watched!
This season is called Scream: Resurrection, and is about:
"A local star football running back, whose tragic past comes back to haunt him and threaten his hard-earned plans for the future … and the lives of his unlikely group of friends".
R.J .Cyler, Keke Palmer, Paris Jackson, Mary J. Blige, Tyler Posey, Tyga, Giorgia Whigham, Jessica Sula, C.J. Wallace, Giullian Yao Gioiello, and Tony Todd star.