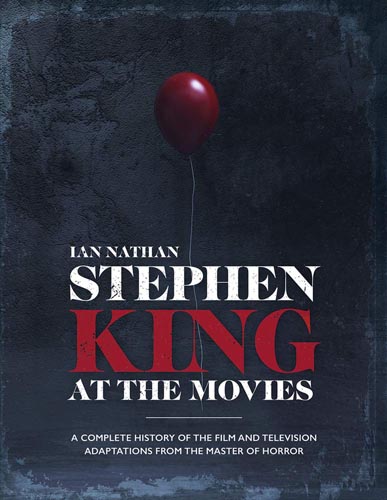 STEPHEN KING AT THE MOVIES
by Ian Nathan
Available from Amazon
If you're a fan of Stephen King stories and the movie adaptations, then you might want to take a look at Ian Nathan's latest publication, STEPHEN KING AT THE MOVIES.
A beautifully presented hardback book measuring 9″ by 11″, STEPHEN KING AT THE MOVIES consists of 223 pages featuring every mainstream film or TV series adaptation of Stephen King novels and novellas up until IT Chapter 2 and the yet to be released Doctor Sleep.
As a film fan, I know that Stephen King's work has provided so much cinematic gold but it isn't until you sit down with this book that you realise the extent of what has actually been put to film. Children of the Corn, The Mist, Secret Window and more recently Gerald's Game are just some of the films you may know but have slipped from memory that they're even based on Stephen King's writings at all. It even mentions the dreaded sequels (yes, all those Children of the Corn ones too!).
In the book, Ian Nathan fully explores King's body of work, giving a brief run down of each adaptation, including the synopsis, before then discussing Stephen King's thoughts on the movie adaptation. Nathan also goes into detail about events that went on during filming, the writer and director's input and whether the story strays from the one King penned. It's fascinating to read and some films, such as Carrie, The Green Mile and The Shining, have more pages dedicated to them than others who tend to just have a double page.
STEPHEN KING AT THE MOVIES is a visual work as much as it is written one with still photos from the movie adorning the pages which help to remind the reader of the films they represent as well as encourage you to watch those you may yet to have seen. Great care has been taken to create a book that itself feels every part a piece of movie memorabilia. The book oozes style like a premium, limited edition release, right down to the glossy crimson balloon on the matt finish of the front of the hardback; a simple but effective nod to Pennywise the clown from King's book IT.
Rather than interview the man himself, Nathan has utilised multiple sources to create this complete history of King's work on TV and cinema. Drawing from many different interviews, he's been able to create a companion that film fans can happily peruse at their own leisure, perhaps just as some general reading or if they feel inspired to watch something King related that they might not have seen. It may be disappointing that there's not much fresh info in there for hardcore King fans as most of it is presented in a way that collates but it still manages to provide trivia that will be interesting to film fans. I suppose those looking for something more specialised about a particular film would have to do some digging of their own but Nathan's book hits the nail on the head in a concise way.
As I mentioned earlier, the latest two film adaptations, IT Chapter Two and Doctor Sleep, are featured in the book but they're more of a summary of what to expect with details of the castings alongside a few snippets from interviews with the cast and crew. Observations are made about the films but further details are sparse because the films hadn't been released at the time of publishing so don't expect any great revelations here.
Depending on what you're looking for in a book on Stephen King adaptations will determine whether this book is for you or not. As an overall history of the writer's adaptations, I feel it does a fantastic job and is presented in a neat, easy-to-consume hardback that will look great on any collector's bookshelf. It's definitely not comprehensive from an informational point of view but it certainly achieves an analysis between the vision of the author and filmmaker.
Rating: