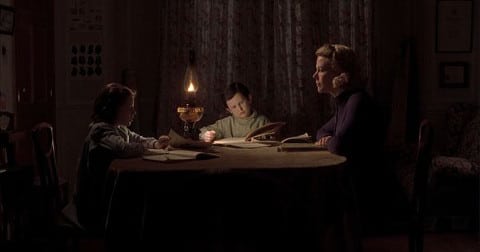 Just the news you need to depress you on a Good Friday….and I'll warn you it will be followed by news of a similarly depressing kind. Alejandro Amenabar's stunning 2001 ghost story The Others which frightened and startled so many of us, and my review of which you can read here, is getting a remake which will probably be released around its 20th anniversary.
Sentient Entertainment plans to"reinvent and modernize the story and is said to already be attracting significant interest from A-list talent and studio backers".
Says  Sentient's manager and producer Renee Tab:
"It is almost eerie and uncanny how timely the themes are today: self-isolation, paranoia and fear, and of course the intense desire to protect our children and ourselves from harm. We look forward to unraveling the layers behind lead character Grace, whose pain and demons draw viewers into a truly compassionate journey."
SYNOPSIS FOR ORIGINAL MOVIE:
A woman named Grace retires with her two children to a mansion on Jersey, towards the end of the Second World War, where she's waiting for her husband to come back from battle. The children have a disease which means they cannot be touched by direct sunlight without being hurt in some way. They will live alone there with oppressive, strange and almost religious rules, until she needs to hire a group of servants for them. Their arrival will accidentally begin to break the rules with unexpected consequences.
Well the modernisation of The Turn Of The Shrew went really well, what could go wrong? Okay okay, I know that sarcasm the lowest form of wit, but honestly? What's the point? For a start, the twist ending still seems to be well known….
Source: Bloody Disgusting