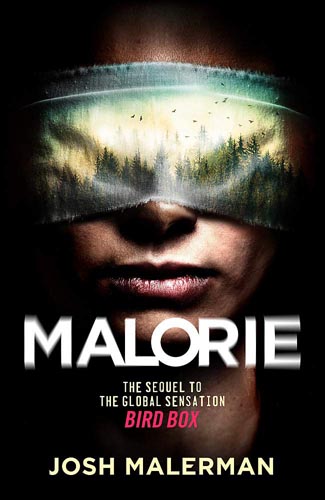 The hugely anticipated follow-up to Josh Malerman's cultural sensation BIRD BOX publishes on 21st July 2020. BIRD BOX was the most successful Netflix film of all-time (with over 80 million views and counting) and the success of the film sent it into the Top Ten bestseller lists around the world – from North and South America, to Europe and beyond.
MALORIE is set to be even bigger.
MALORIE returns to the world of terror, rules and blindfolds, seventeen years after the 'creatures' first appear. Malorie has raised her two children – Olympia and Tom – on the run or in hiding. Now nearly teenagers, survival is no longer enough. They want freedom.
Read an extract from the book's first chapter below ahead of its publication date!
"Hello?"
It's a man's voice. Tom hears paper rustling, like when Olympia flips pages while reading. Does the man have books?
Tom is scared. But he's thrilled, too.
A visitor.
Still, he does not answer. Some of Malorie's rules make more sense in the moment.
Tom steps away from the well. He could run to the cabin's back door. It wouldn't be difficult, and he'd know when to stop.
In his personal darkness, he's all ears.
"I'd like to speak to you," the man says.
Tom takes another step. His fingertips touch the rope. He turns to face the house.
He hears the small wheels creak. Imagines weapons in the barrow.
Then he's moving fast, faster than he's ever taken this walk before.
"Hey," the man says.
But Tom is at the back door and knocking five times before the man says another word.
"Tom?"
"Yes. Hurry."
"Are your— "
"Mom. Hurry."
Malorie opens the back door and Tom nearly knocks her over as he rushes inside.
"What's going on?" Olympia asks.
"Mom— " Tom begins.
But there is a knock at the front door.
The door is thin and old. Malorie has expressed worry before; it isn't enough to stop anything, or anyone, from coming in.