Mens Sana (2018)
Directed by: Ludovica Musumeci
Written by: Ludovica Musumeci
Starring: Amelia Eve, Eugene Simon, Ludovica Musumeci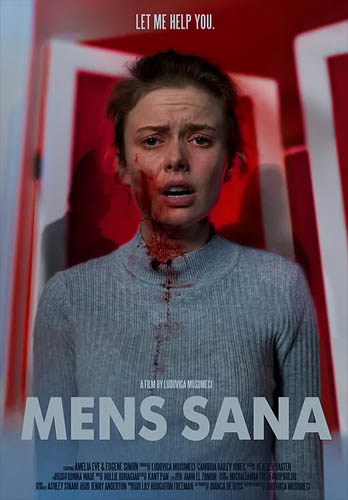 The year is 2038 and the world is battling against a contagious parasite Statera that spreads throughout the water supply. Even a single drop of water could be infectious enough for the parasite to take over your mind and ultimately your body. Borne out of the Government initiative Mens Sana, Statera has been unleashed unto the population to control people considered dangerous to society. Joyce and her boyfriend Mark have managed to protect themselves and avoid the parasite so far but a turn of events causes Joyce to question everything she knows.
MENS SANA is an award-winning, 15 minute short, psychological , sci-fi thriller from writer and director, Ludovica Musumeci, who also stars in the film. Amelia Eve (The Haunting of Bly Manor) brings pure emotion to the role as Joyce who's world suddenly turns upside down as she finds herself in a terrifying situation in which she must act in the moment. Her boyfriend Mark, played with calm assurance by Eugene Simon (Game of Thrones), attempts to bring stability to their relationship and to Joyce but even he can't help when things take a drastic turn.
MENS SANA packs a lot into its short running time with Amelia Eve keeping the viewer on the edge of their seat as we live through Joyce's every moment, questioning everything that we see in front of us. This uneasiness which Joyce finds herself in is backed by a chilling score by Donna Wade that adds to the mystery. It does well to help build the tension throughout a an exchange which sees a shocking resolution – albeit not an unexpected one but certainly not anticipated in the moment it does occur. I'll admit that I jumped off my seat as I didn't expect it, there and then and it usually takes a lot to make me jump, so bravo to the editor, Kant Pan (Crying Game), for slick use of editing. A bold use of red also adds a wonderful contrast during a pivotal moment which brings the gravity to Joyce's situation.
You can watch MENS SANA short film on Amazon Prime (free for Prime Video members).