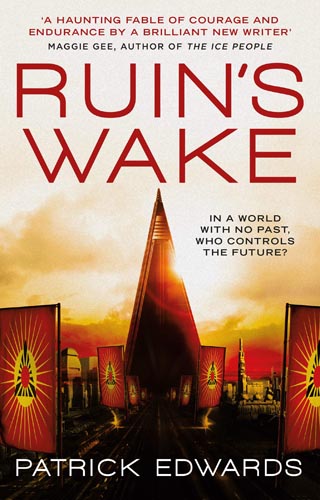 RUIN'S WAKE
by Patrick Edwards
Published by Titan Books
Available in eBook and paperback
Set in the distant future, Ruin's Wake tells the story of three individuals who live in a totalitarian society. Their existence, as they know it, is all thanks to a man known as the Seeker. When Earth fell due to the reliance on machines, it was the Seeker who saved humanity and hundreds of years later, it is he who citizens must worship. With his portrait hung on the wall in every household, and the totalitarian government, led by Fulvia arc Borunmer, Venerable Guide, Chief Marshall of the Seeker's Military and Holder of Keys, quick to execute any traitors to his name, a life of freedom in Karume and the surrounding areas seems a pipe dream.
When Cale, a sculptor living in the isolated landscape of the Groan, learns that his son has been injured in battle and is dying, he sets out on a journey to retrieve him but that means stepping foot in the society he left behind, one bound by rules and ruled with an iron fist. Meanwhile, scientist Professor Sulara Song is sent on a research mission to the Macuo glacier in order to investigate potential pre-Ruin artefacts.
Back in Karume, Kelbee, the abused wife of the Major, puts a brave face on her miserable life. Between the abuse at home and at work, she finds a glimpse of a better life with Nebn, a man working in the same building as her. However, if her illicit affair was to ever be discovered, it would mean the end for both of them.
Patrick Edwards depicts a bleak future in his debut novel, sci-fi RUIN'S WAKE. In a world where the sun is known as Ras and the Winter is known as the Death, this is a place in which history has been rewritten by one man, whether alone or by loyal followers looking to control the population using his legacy. Karume, the city at the centre of the book, is completely controlled by the hegemony and features all the trademarks you would expect from a dictatorship – the military parades, the public executions and factors acting on the government's behalf to keep order. The class system is very much in effect here and the closer you get to the top, the more dangerous a situation your life becomes. I can only imagine living under Hitler's rule would be akin to this and having watched a few films and a TV series (The Man In The High Castle) based upon that era, it's a frightening situation that no-one would to be in. Edwards sets up this world magnificently in the telling of three separate stories that eventually intertwine.
Led by three very different but determined characters, these arcs completely engrossed me as a reader with their level of intricacy and detail. Even the characters have a grit about them. Sulara Song is a prime example. One of leading female scientists, she studies pre-Ruin relics but as the Government wish to dismiss any pre-Ruin artefacts, her job is in decline and thus has left her department with little budget other than research. From her diary entries, which is initially how we learn about her life, Song is a woman not to be messed with. Incredibly intelligent, she is dedicated to her studies and doesn't suffers fools gladly. Often sent to remote parts for her studies, she tirelessly works to seek out her goals even though the assistants accompanying her are usually useless except as use as occasional bedwarmers.
Each story has its own particular style with Cale's the most action-packed of the three as he desperately tries to reunite with his son. He's clearly a man who knows his hand-to-hand and close-quarter combat judging from the the descriptive precision he demonstrates. This approach of three different experiences that eventually converge works particularly well as we get to see from various perspectives just what happens in a society where the people in charge decide the past, present and future; a place where individual voice has been lost.
For a debut novel, RUIN'S WAKE is a heavy slice of fiction to get your head around but that's a good thing! Edward's ambitious undertaking is refreshing and a pleasure to read even if it is hard-hitting emotionally. The dystopian horrors depicted aren't above reality, which is probably the scariest aspect of this book, as Edwards provides a detailed look into what that kind of society looks like.
With such an impressive first book under his belt, I'm keen to see what else Patrick Edwards has in store for readers of this particular genre.
Rating: